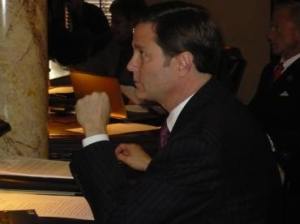 State Sen. Donald Norcross (D-5) of Camden today announced his candidacy for the 1st Congressional District to replace the retiring Rob Andrews in the gerrymandered Democratic district.
"I am running for Congress because South Jersey needs someone who is going to stand up for us in Washington, D.C., as Rob Andrews has done for more than two decades," said Norcross, head of the AFL-CIO Central Labor Union and president of the Camden County and Vicinity Building Trades Council. "I have spent my career fighting for middle class families, senior citizens and workers. It is a sad truth that while some are doing better, too many are falling further behind. If elected to Congress, I will focus on creating jobs across South Jersey and an equal opportunity for everyone."
"My father believed that every child deserved a good education and every worker deserved a fair shake," added the senator, brother of South Jersey Democratic Party pooh-bah George Norcross III. "Those are the principles and priorities I took with me to Trenton and will take with me to Washington, DC if I am elected."
Active in the United Way of Camden County for over almost two decades, serving as chairman from 2002 through 2004, Norcorss serves as a board member of the United Way of Greater Philadelphia and Southern New Jersey. Since 1993, he has also been a member of the Board of Trustees of the Union Organization for Social Service (UOSS), the nation's first labor agency devoted to community service.
"As a constituent and a friend, I thank Rob Andrews for his service," Norcross said of his predecessor. "I hope that if I am elected, I can carry on the fine work he did for the people of the First District. I believe that our best days are ahead."
Norcross and his wife Andrea live in the City of Camden. He is the father of three children and the grandfather of two.