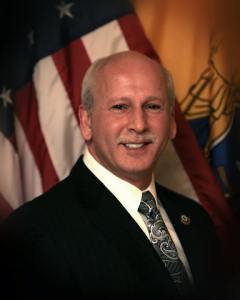 It once constituted a favorite Paterson parlor game: who would get shouted down first if then-Council President Aslon Goow ever went to Trenton as an assemblyman: Goow or the similarly voluble and volatile Gov. Chris Christie.
It was Lee Van Cleef-look-alike Goow, after all, who aggressively engaged in any number of exchanges with residents from his throne of power on the local governing body; who once sent a challenger scurrying from City Hall wishing he had never attempted to criticize the councilman in a public forum; who gave chase to a burglar behind the wheel of his own car; and who rose out of his seat in the audience during the 2010 Tea Party election and poured forth a stream of epithets at the debate moderator.
U.S. Rep. Bill Pascrell (D-9) later picked Goow out of a tent crowd and dropped into a fighter's stance in recognition of the counciilman's efforts.
Goow.
It made a forceful and recognizable brand name, in part forged as a foil to then-Mayor Jose "Joey" Torres, Goow's fellow Ward 2 resident, with whom the councilman notoriously clashed on the subject – among 100 others – of police car paint.
Goow was offended when Torres' seals for the doors on PD cruisers looked like the Puerto Rican flag, and he insisted that the mayor return the fleet and get a better – non-political look.
When Torres prevented Goow from running in 2010 with some political maneuvering, then allayed allies' fears with a Joe Vas-like line about nothing more than "token opposition" running against him for mayor, he famously got caught flat-footed by then-Council President Jeff Jones.
Watching Torres pack and vacate City Hall, Goow looked like he had politically outlived his old nemesis.
The Ward 2 hotshot rubbed it in when he took over the council in the post-Torres era.
In 2012, a ruffled Torres ran his wife for council, specifically against Goow.
But both Torres and Goow found that a majority of residents from their unhappily shared north Paterson quintile had somewhat tired of both of them when they elected Mohammed Akhtaruzzaman to the council seat, preferring the Bangladeshi American newcomer to both the former first lady and their resident Ward 2 tough guy.
Goow wasn't done, however.
Eyeing the May 13th Paterson election, he's running for mayor; along with a redemption-seeking Torres; Jones; and the man who succeeded Goow (following a stint by Anthony Davis) as council president: Andre Sayegh.
A polling memo obtained over the weekend by PolitickerNJ shows Goow in fourth place with 5% of the vote, behind Torres and Sayegh (tied for first at 33%) and Jones (15%).
But Goow insists he sees a path to victory. "The verdict is in," he posted on his Facebook page, "Goow is back."
"It's the perfect storm," said the candidate. "I have rebounded very well from the last loss. People are ready for the strong leadership I have always demonstrated. There's always that issue of being too tough – but the climate is perfect right now because of the crime we are having. The number one issue is crime."
He's a special police officer in Haledon: a sergeant; and a licensed detective.
"It's going to be more police officers and stronger presence and more visibility," Goow said.
"I will be a visible, hands-on mayor," he added. "Joey had has his chance. Jeff had his chance. Andre thinks going around and shaking hands is going to get him elected. The truth is he's the least qualified candidate in the race."
He doesn't discount the influence of Pascrell, but still believes he has done enough to warrant support on his own.
"I had some concerns when I heard he may support Andre but this is a nonpartisan election," Goow said.
As for a relationship with Christie, "There's no doubt in my mind I would be able to develop a positive relationship with the governor," the former councilman said.