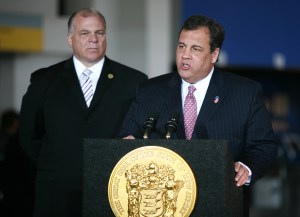 TRENTON – Rising tensions over the state's Fiscal Year 2015 pension payment in the lead up to Gov. Chris Christie's budget address appear to have been smoothed over.
Democratic sources indicate they agree the governor's $2.25 billion pension payment for FY 2015.
The news comes a day after leading Senate Democrats declared they would not negotiate on the pension payment, arguing they would prefer a government shutdown over making anything less than the full amount.
At the time, Democrats indicated the state would likely need to make a $2.4 billion payment.
However, sources now tell PolitickerNJ "it appears Christie is making the full pension payment."