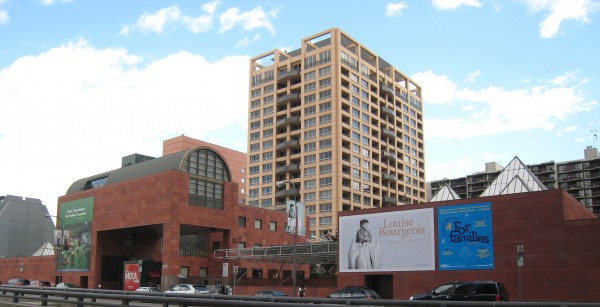 This article is one part of a two-part look at Philippe Vergne's departure from the Dia Foundation to lead MOCA Los Angeles. For the other part, please click here.
In 1997, when he was chief curator at the Walker Art Center, a contemporary art museum in Minneapolis, Richard Flood received an email from the French Ministry of Culture informing him that a young curator from Marseilles was traveling the United States and would be passing through the City of Lakes. Would Mr. Flood consider meeting with him? Once the curator was in town, Mr. Flood got in touch with him by email. He apologized, saying he could not meet that night, but said there was a jazz concert happening at the Walker and there would be a ticket waiting for him there. Mr. Flood then went to dinner and told his friends that he sent some French curator to the museum for the concert that evening. His friends quickly informed him that the concert was, in fact, the following night. Racing over in his car, Mr. Flood saw Philippe Vergne standing in the lobby, "unmistakably French, unmistakably carrot-topped," a reference to Mr. Vergne's head of orange hair. He was genially talking to the security guard on duty and asking if there was a good place to see music in Minneapolis.
This scheduling error set in motion Mr. Vergne's career in American museums. Mr. Flood took Mr. Vergne to dinner, and soon he was being interviewed by Kathy Halbreich, then the Walker's director, who hired Mr. Vergne as a senior curator. He would eventually take over Mr. Flood's job when he left for the New Museum in New York in 2007. On Jan. 15, the Museum of Contemporary Art in Los Angeles named Mr. Vergne, who since 2008 has been the head of the Dia Foundation, their next director. The decision, the culmination of an intensive six-month search for a new leader, officially closed the chapter of two controversial years under the direction of former New York art dealer Jeffrey Deitch, who last year was let out of his five-year contract three years early. With Mr. Deitch at the helm, the institution saw a slew of resignations, including Paul Schimmel, MOCA's beloved chief curator, along with all four of the museum board's artist trustees.
Sources inside and outside the institution said the decision to hire Mr. Vergne was a return to MOCA's roots as an "artists' museum," privileging vigorous scholarship above crowd-baiting exhibitions, a mission that much of the art world felt MOCA lost sight of under the direction of Mr. Deitch. (Shortly after the ouster of Mr. Schimmel, Mr. Deitch announced an exhibition focused on the history of disco. The timing couldn't have been worse: The artist John Baldessari, who joined MOCA's board as the sole artist trustee in 2000, later to be joined by Barbara Kruger, Catherine Opie and Ed Ruscha, resigned, telling the Los Angeles Times, "When I heard about that disco show, I had to read it twice. At first, I thought, this is a joke, but I realized, no, this is serious." His fellow artists would soon follow suit.)
"It turns out that Jeffrey, I don't think he pretended to be who he was not, but his program seemed not to work so well," Mr. Baldessari told me shortly after Mr. Vergne's appointment. "The board has to deal with the problems that every museum has to deal with." Namely, "how to balance popular culture with art culture. It's a touchy subject. No museum is immune from it. So I guess they were discussing popular culture too much, and they are reassessing that balance."
Many others in the Los Angeles art community were hardly pleased with Mr. Deitch's short career as a museum director.
"There's a whole Deitch camp that are probably rolling on the floor gnashing their teeth," said Tim Blum, co-owner of the Los Angeles gallery Blum & Poe, alluding to a certain sect of middlebrow graffiti artists who believed they were getting their due from the museum world with shows like MOCA's immensely popular, Deitch-curated "Art in the Streets." "Because they thought they actually had a chance to upend the institution from within." (Mr. Deitch, when reached by phone, declined to comment on MOCA, adding that "the focus should be on Philippe.")
In a phone interview last week, Mr. Vergne, who starts at MOCA in March, declined to comment on any specific vision he has for the museum going forward, but he told me, "To find the right direction and the right tone, you have to understand institutional history." When asked about a comment he had made, according to Mr. Flood, in his job interview at the Walker, that the role of a curator in an institution is to "explode the institution," Mr. Vergne added (after joking that I was going to make him "sound like a terrorist"), "I still see it like that. You need to challenge. You must conform to history and legacy, but also you break it. Institutions are unfinished. They shouldn't be finished."
How does a museum with the size and influence of MOCA pick a new director? The answer is very different now than it was when Mr. Deitch was hired in 2010. Then, the decision rested largely on billionaire philanthropist Eli Broad, a life trustee at MOCA, whose Broad Foundation has given the museum millions in funding, including a matching grant of $30 million in 2008 that is widely credited with saving MOCA from financial ruin after it had dipped heavily into its endowment. With Mr. Vergne, the selection process was more democratic. Joel Wachs, the president of the Warhol Foundation, was asked to be part of a search committee, and he in turn asked Mr. Baldessari to be involved. Mr. Baldessari suggested they invite the other artists who had resigned from MOCA's board. Everyone offered recommendations of people who should be considered, brainstorming that turned into a list of 50 names. ("Anybody in the art world would have come up with a similar list," Mr. Baldessari said.) This was whittled down to three people who were brought in for interviews.
"It's hard to describe how meaningful it was to have the artists on the selection committee," said Lilly Tartikoff Karatz, who has raised more than $80 million for cancer research and is co-chair of MOCA's board with fashion mogul Maurice Marciano. "To hear their points of view is very humbling. Because you're hearing it directly from those exquisite artists and people that we—and I hate to sound like a groupie—but that we worship. Having them there at every meeting. Barbara, she even had emergency surgery; she literally didn't miss a call."
According to Mr. Baldessari and several board members, the decision to hire Mr. Vergne was unanimous, though the question remains as to whether Mr. Broad—so integral in the hiring of Mr. Deitch—would have approved. "He was not on the search committee," a spokesperson for Mr. Broad said, leaving it at that. Mr. Vergne said he spoke to Mr. Broad while the board was considering him as a candidate, and "after that, we had other conversations," though he didn't elaborate.
"He has done some things for Los Angeles as a philanthropist that are quite extraordinary," Mr. Vergne continued. "He has supported MOCA in a very unusual way."
MOCA announced on Jan. 7 that it had successfully raised its endowment to $100 million , a figure that includes donations from Mr. Broad, who will open his own art museum, called simply the Broad, down the block from MOCA in Downtown Los Angeles later this year.
"Mr. Broad continues to support the museum," MOCA's director of communications wrote in an email. But with Mr. Broad's relative lack of participation in the appointment of Mr. Vergne, it would appear that the man who has pledged at least a small fraction of his sizable wealth to keeping MOCA's doors open has begun to change his role in the institution. Mr. Broad will, however, chair MOCA's fundraising gala on March 29, celebrating the museum's 35th anniversary, as well as the opening of a traveling Mike Kelley retrospective; the gala will double as an unofficial coming-out party for Mr. Vergne. Individual tickets range from $2,500 to $10,000 apiece. Tables run $25,000 to $100,000. It's the museum's biggest fund-raiser each year and should help in inching MOCA closer to its goal of raising an additional $50 million. No date has been set for when that goal should be reached, but Mr. Vergne told me he wants it accomplished "as fast as possible."
It is too early to tell what the Philippe Vergne era of MOCA will look like. Perhaps most important among the tasks ahead is beefing up the staff and filling the chief curator position left vacant since Mr. Schimmel's departure in 2012. Mr. Vergne didn't offer any names of people he would like to hire, however several sources speculated that Douglas Fogle, the former chief curator at L.A.'s Hammer Museum, who worked with Mr. Vergne for years at the Walker, would be an obvious choice. Others said the Walker of the late '90s was a golden era that any contemporary museum, especially MOCA, should aspire to. One Los Angeles gallery owner expressed a desire for Mr. Vergne to "get the band back together," referring to the team of curators Mr. Vergne worked with at the Walker. Mr. Flood said he would "love to work with Philippe again." In an email, Kathy Halbreich, now the deputy director at the Museum of Modern Art in New York, said of Mr. Vergne, "I hired him twice, which should say it all," referring to a brief period in which Mr. Vergne left the museum to direct the Francois Pinault Foundation for Contemporary Art, only to return after a few months. (His departure came after bureaucratic wrangling with the French government over a proposed site for Mr. Pinault's private art museum in Paris resulted in the mega collector decamping for Venice.) Mr. Vergne said that it was at the Walker where "I really learned to work with a group. It was a beautiful moment, but it's also a moment that you cannot reproduce."
For his part, Mr. Schimmel, who left the museum world to work as a partner in the commercial gallery Hauser & Wirth, which will open an outpost in Los Angeles later this year, called Mr. Vergne an "excellent decision." Mr. Schimmel has known Mr. Vergne for 20 years and wrote him a letter of recommendation when he was applying for U.S. citizenship for the job at the Walker. "I would say Philippe is as much of an artists' choice as his predecessors," Mr. Schimmel said, citing "both Richard Koshalek and Pontus Hultén," MOCA's founding director. (Asked if he would ever return to MOCA, he replied with a quick and loud "No!")
As for MOCA's former artist trustees, who according to Mr. Baldessari acted as "the museum's conscience," many people close to the museum have expressed that bringing them back to the board would be a logical first step in rekindling the museum's reputation as a major supporter of artists.
"I'm sure we will have the artists back," said Ms. Tartikoff Karatz, the board co-chair. "It was so sad not to have them with us. It was not a long period of time, but it was hardly as colorful. It was kind of bleak not having them in the room."
Mr. Baldessari said he had not been approached about rejoining the board, though he believed the issue had been discussed in other meetings. If asked, he's not sure what he would do. "I have not made my decision yet," he said.
Others suggested, though, that it's more important for MOCA to find the next generation of Baldessaris, Krugers, Opies and Ruschas and that the presence of younger talent in the institution will secure its importance in the future.
"What was unprecedented in the '80s is now the norm," Mr. Schimmel said, speaking of MOCA's founding, long before contemporary art was a multibillion-dollar global business. "It needs to reinvent itself in terms of the 21st century."