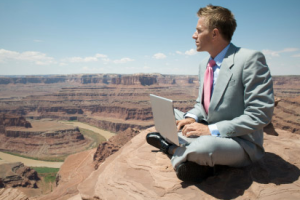 I've never paid for my own landline phone number. I brought a telephone with me to college but never ended up plugging it in–it wasn't necessary.
My generation was on the tail end of landlines and by extension, at the beginning of the era of remote businesses. When I started my own company, it never even occurred to me that I would get an office. Why would I? It's just an unnecessary expense.
In a little over three years I have lived in Los Angeles, New Orleans, New York and Austin. In that time, I've had employees who worked out of Florida, Colorado, California, Alabama, Georgia and worked with clients in more countries than I can remember. In fact, I often find out where they're based at the end of the year when its time to do taxes.
This is life with a remote business. No constraints, access to great talent regardless of location and total freedom. The money we make goes to the partners and to the employees–it doesn't go to some landlord.
All of people are doing it better and bigger than I am: Zapier, Automattic, 37Signals, Github, Treehouse, and Copyblogger are all dominating their business niches while running their companies remotely. And for good reason — a 2013 study by Gensler, the architectural firm, concluded that when employees are given the choice in how and where they work, they have higher levels of satisfaction and produce more innovation than employees that don't.
But running a remote business is not all sunshine and butterflies. While the alternative of leasing office space and running an office seems absurd to many startups or lifestyle entrepreneurs today, running your business remotely isn't exactly a panacea for the problems of a typical office workplace. I've been on a desk at a Hollywood agency, and led the American Apparel marketing office, so I've learned all the lessons one can in office life. I've also been running my own remote business for the past three years and started a new one in the past year and done my fair share of consulting, so I know both sides intimately and understand what to take from each to build a productive, meaningful culture in business. My position with Betabeat is "Editor at Large"–emphasis on the at large.
A remote workplace may solve a lot of problems that office life created, but it also has created some new issues. Here are some of the lessons I've learned while running a remote business.
Lessons Learned:
Hire ONLY Good People (fire the ones you can't trust)
One of the main reasons people keep offices is control. Management doesn't trust their employees that they'll do their work and they fear that if they give up that control, everything will fall to pieces. And because of the mediocre people most companies hire, this is usually true. But I've found that by hiring good people I be in control without obsessing over it. If you have an employee that fits in the other category–you can't trust them to work without supervision–you need to get rid of them. And once you find a good employee, give them your full trust, they deserve it.
Hire Doers, Not Dreamers
Only hire people that simply get things done. Google has hired and fired tens of thousands of people and has been testing their hiring process for years. Guess what they found? Interviews, grades, and resumes had no correlation with good hiring outcomes. This is even more important when hiring for remote work. A study by Plantronics has shown that hiring good talent is one of the biggest pain points for small businesses. It's simply hard to find good help. If the candidate isn't already self-motivated to get stuff done, they aren't going to magically become a doer because you hire them. You can teach skills–you can't teach initiative, discipline or dedication.
Expand Your Definition Of "Work"
People tend to think that what they do at the office is work, and everything else is not work. In reality a lot of things you do in your life makes you more successful at work. Today, if I go for a run and it clears my head–that's work. If I read a book and it gives me a new idea–that's work. So why would I not do those things during the middle of the day? This also means you have to give your employees the leeway to do things that aren't considered "work" in corporate offices. By allowing your employees the leeway to create a routine that works for them, you're creating a culture that will get the best out of them, without forcing all of the meetings and phone calls that prevent us from doing our best work.
Use Great Tools, Use Them Well
I typically use Basecamp for assigning tasks and managing employees. This prevents a common issue in office life–passing the buck onto the next guy–and allows me to delegate responsibility easily and transparently. There is no uncertainty as to who is responsible for what. I use Google Docs for writing and creating documents. Google Docs allows for real time collaboration and all the compatibility anyone needs to work with employees and clients alike. I also use 15five, (where I am now an investor/advisor) which is a simple but awesome tool.
All it is: employees make a weekly report that takes them less than 15 minutes to write and their manager just 5 minutes to review. This gives employees a much needed voice in the day to day working of a company, update their boss on their great work and answer important questions. It also gives management a good view from the sky to see what each employee is working and responsible for.
At my marketing company, we have an internal message board where we bounce ideas off each other and keep everybody updated on what is going on in the company. At Betabeat, the writers use Hipchat which is basically the same idea. This is basically all I use. Don't overthink tools–just pick the ones that work and use them.
Decide: Maker or Manager
Consider what Paul Graham calls the Maker's Schedule. Personally, since I do a lot of writing, I have what they call a "maker" schedule. This means it's disruptive for me to give away blocks of my time for conference calls, meetings and coffee. I'm better off
staying home and working on my writing and publishing it, instead of getting interrupted every hour with phone calls or meetings that don't create a valuable output.
Everyone today is "busy," but you can choose what exactly makes you busy. Meetings, grabbing coffee, and phone calls all take slices out of your day that could better be used creating something of value. But that might be different for you–maybe you love meetings and sales and excel at it.
The point is: figure out who you are and what's best for you and then make a decision. Do not try to do both.
Meet Face to Face
I try to coordinate my travel schedule so I can see my employees in person on a semi-regular basis. Having a drink with an employee every few months can mean months of seamless remote work. For me, it allows me to get a sense of how my employees feel about their current role/assignments, and it gives my employees the opportunity to voice their thoughts or concerns in person.
Look, I don't consider remote interaction to be an absolute replacement for old fashioned "getting to know someone." The social aspect of conventional offices are probably one of the biggest assets of having one in the first place. So that's why I find it so important have in person meetings with employees on a semi-regular basis. For example, in a few weeks, we are flying our employees to Austin for a three day company retreat.
Pick Up The Phone
If someone is confusing, contentious or complicated, just pick up the phone and call. Don't schedule something, just call. Email can be confusing, leave out important nuances to a problem, and allow people to hide behind passive-aggression. Trying to schedule something just adds another variable.
Most, if not all, of these issues can be solved by talking them through on the phone. Instant verbal contact cuts through all of the mystery of a vague email chain and can help you push projects and people forward instead of sitting back and waiting for the next email update do come into your inbox.
Always. Be. Working.
It's really tempting when you work remotely to think "Oh, now I don't have to work as much." Yes–you don't have to waste as much time with pointless meetings and obligations, but at the end of the day, you still have to put your ass in a chair and produce. I see so many people starting out in their work-from-home situations getting caught up with the temptations–long lunches, partying, sleeping in, chatting all day. Look: if anything now you have to be more disciplined, and you have to work more. Because no one is checking up on you, no one is picking up your slack–it's all on you. Produce or die. I still recommend getting up early, blocking out large periods for uninterrupted work, and making aggressive, public commitments.
Figure Out How To Travel
For any business person, travel can either be a meaningful means to an end or a an excuse to pretend like you are doing something essential or on "important" business. The most important thing to ask yourself when you travel is why? Is it because it makes you feel important? Or because you are going to see the source of something important or meeting with a client you need to see in person.
Personally, I've found I function at about 75% capacity while traveling. So that means four days away from home is equivalent to taking a day off…without the benefit of it actually being a vacation. It's even worse to do it recklessly without a routine or plan. There is no better way to wear yourself out than to travel all over the country without a way to keep your day regulated and under control. Everything thing you do while traveling can easily get out of control: eating, sleeping, communication–it all can fall apart.
The key is to have a cemented routing that keeps you from going off the rails. For me, that means going for a run when I get to my hotel and getting a sense for the city I'm in. It means eating healthy instead of eating like a slob and feeling like crap for the next week. And it means coming up with a bulletproof schedule that allows you to get stuff done and enjoy your life.
So I avoid pointless or unnecessary travel. Air travel isn't something that is in and of itself an accomplishment anymore. The key is to have a clearly defined purpose and not to be flitting around just to tell others that you're able to do it.
—
All of this is not to say that running a remote business is the Platonic ideal of modern business. But what I have learned in my few years of running my business is you can get the best and most enthusiastic employees without chaining them to a desk. So whether they work fully remotely, or you just don't sweat what time they come in or leave, giving up control can be a good thing.
Good help is hard to find, so for me, it doesn't matter where I get it, only that I find and it cultivate it. Because the one thing that I'm striving for with my company and with anyone I work with is creating great stuff. I work all the time—remotely. But I don't feel like a workaholic and I'm not going to burn out. This is the great privilege of running a remote business. And if you cultivate it with empathic communication, trust, and discipline you will find that you can be more creative and productive than you thought possible
Ryan Holiday is the editor at large of Betabeat and the author of the forthcoming book The Obstacle is the Way.