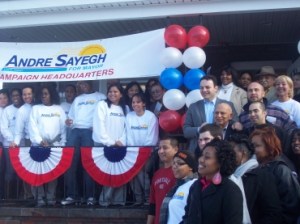 A poll by the Gallowglass Group of Wood-Ridge shows a head-to-head war between Council President Andre Sayegh and former Mayor Jose "Joey" Torres for the office of Mayor of Paterson.
Incumbent Mayor Jeff Jones lags behind the two front-runners, but no one gets 50% in a May nonpartisan, highest-vote-getter-wins election that does not have a runoff, according to the poll of 400 likely registered voters in the City of Paterson from January 16 to January 23.
In the poll, Sayegh and Torres are tied at 33% with Jones receiving 15%.
Jones' favorables/unfavorables are reversed (36% favorable vs. 55% unfavorable), Torres has 48%/41% favorable/unfavorable ratings, and Sayegh has favorables of 57% and low negatives (12%), according to the poll.
No other announced candidate garners significant support. Former Councilmen Aslon Goow (5%); Maria Teresa Feliciano (2%); Donna Nelson-Ivy (2%) and Councilman Rigo Rodriguez (2%) do not have strong bases of support as mayoral candidates, the poll finds.
U.S. Rep. Bill Pascrell (D-9) remains popular in Paterson as witnessed by his job performance rating (50% Satisfied vs. 12% Unsatisfied), and his name recognition (93%), and favorable/unfavorable rating (85% favorable vs. 8% unfavorable) ratings are the best of all elected officials tested in the survey.