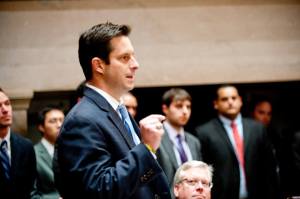 Elected officials and Democratic leaders fired back at Republican State Senator Greg Ball after the Hudson Valley lawmaker dubbed Mayor Bill de Blasio's plan to develop a municipal ID card system the "de Blasio Terrorist Empowerment Act."
"Lumping these hard-working immigrants in with terrorists is the worst kind of irresponsible," declared State Senator José Peralta, one of the leading immigration reform advocates in the chamber.
Mr. Ball released his statement in reaction to Mayor Bill de Blasio's recently-announced plan to provide universal ID cards to undocumented New Yorkers. Mr. Ball contended that Mr. de Blasio's proposal would empower terrorists and possibly even qualify as a felony for "aiding and abetting" criminals.
Needless to say, Mr. Ball's critics were unpersuaded. Mr. Peralta, who supports full driver's licenses for undocumented immigrants, argued that Mr. Ball's "overheated anti-immigrant rhetoric" would make it harder for new immigrants to integrate into their communities and flies in the face of expert opinion.
"With municipal ID's and driver's licenses, undocumented immigrants today would be able to better provide for their families, contribute more to the economy and fully integrate into the American mainstream, just as generations of immigrants to this country have before them," he said.
Public Advocate Tish James, a Democrat like Mr. Peralta, similarly denounced Mr. Ball's comments as "incendiary."
"Instead of passing the New York State Dream Act, Senator Greg Ball is scapegoating immigrants and blatantly fear-mongering," Ms. James said in a statement. "Municipal identification cards for all New Yorkers are a great tool to help bring undocumented immigrants out of the shadows and give them access to crucial services."
The labor-aligned Working Families Party also criticized Mr. Ball's rhetoric in a statement from its Hudson Political Director Ari Kamen. "Shame on Greg Ball for his deplorable anti-immigrant comments essentially describing the Mayor of New York City as an accomplice to terrorists," Mr. Kamen wrote. "Senator Ball has spent his career vilifying hardworking immigrants who come to America for a better life."
"The Mayor's ID proposal is a humane way for society to treat its residents," Mr. Kamen concluded.
A spokesperson for Mr. Ball said the senator stands by his statements, and he will address the topic further at a homeland security hearing on February 28.