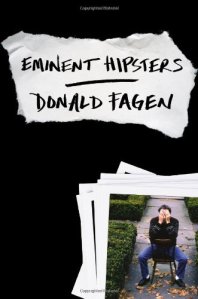 For the sake of transparency, I want to admit: I never warmed to Steely Dan. As widely as my tastes range, their music lacked a certain fire. It felt cold and, well, steely. Fortunately, musical preferences have no bearing on cofounder Donald Fagen's absorbing book.
Across ten stand-alone pieces and a seventy-three page tour diary, Eminent Hipsters attempts to map the ways music, books and certain cultural figures sculpted Mr. Fagen's sensibility. With the exception of a Q&A that lays on the text with the grace of what geologists call a 'glacial erratic,' essays and sketches compose the remaining chapters. The best aim to do what pioneering cultural critic Ellen Willis advocated: explore the connections between culture and self. In Mr. Fagen's case, those connections prove especially relevant because of the way his band's compositions colored the larger culture.
Chapters cover the influential Boswell Sisters, Jazz Age composer Henri Mancini, innovative broadcasters Jean Shepherd and Mort Fega, Ike Turner's music and New York's early jazz clubs. Steely Dan fans will savor Mr. Fagen's personal narratives about living in the suburbs and attending Bard College, where he met collaborator Walter Becker, but fans hoping for a traditional memoir might be disappointed. Lacking an arc or concern with chronology, the book is too formally and topically eclectic to qualify as anything but a collection of essays and criticism. But you have to admire Mr. Fagen for not pandering to expectations.
Mr. Fagen proves an engaging companion, telling stories with language as erudite as it is imaginative. He admits to falling for jazz's "extramusical artifacts," frames Connie Boswell's career through the prism of an Edmund Wilson theory, and says Audrey Hepburn was so beautiful in Breakfast at Tiffany's that he "wanted to sip her through a straw." His style transcends thesaurus ownership, stemming instead from imagination, humor and intellect—which explains why his best pieces mix critical analysis with the historical and personal.
At a time of tawdry, ghost-written memoirs built around fame and falls from grace, it's refreshing to have a celebrity write probing, reflective pieces. The way Mr. Fagen gazes outward more than at his famous navel qualifies as a type of mutiny against American narcissism. Then again, one can make the case that a collection of occasional pieces (some published in Jazz Times, Harper's Bazaar and Slate) reflects a compromise between creative limitations and commercial concerns, rather than strength of vision; when a known entity can't write a memoir, they publish ephemera. The quality of Mr. Fagen's writing makes the issue moot. The pianist-singer proves a nimble critic of pop culture. He likely works hard at it, but he makes it look easy.
Jazz fans will find the abundant anecdotes especially rewarding: brief visits to fabled jazz venues like Slug's; a jam session involving Hank Mobley, Paul Chambers and Wynton Kelly; the time bassist Charles Mingus called tenor Coleman Hawkins "Uncle Tom" from the stage. Seated at the bar, Mr. Fagen says, "Hawk just gave a world-weary smile and took another swig." His remembrances celebrate the artists who liberated him from suburbia, artists who have the power to change other peoples' lives. After all these years, jazz still seems to excite him.
The tour diary should satisfy Steely Dan followers' need for a sustained glimpse behind the wizard's curtain. Comprising the book's second half, it chronicles a side-group's 2012 tour. Stripped of any red carpet glamour, this chatty account combines meditations on life with minutia about accommodations, painting a cynical, amusing portrait of a working musician's existence.
The coupling of journal and essays is unusual but effective: topical pieces up front, travelogue in back. The divergent tones of voice give this unique self-portrait not an identity crisis so much as multiple facets. Where the front matter tells how Mr. Fagen became a musician, the journal tells the story of where music took him. In many cases, it's to interchangeable hotel rooms, playing gigs composed of so many geriatrics that he describes the job as "assisted living."
As expected, Mr. Fagen occasionally fumbles: a corny introduction here, a few weak endings there, some amateurish lines he should have cut. Composed of common knowledge, his piece about Ray Charles offers nothing new. A couple pieces stop right when they get going, leaving rich themes undeveloped. This sense of interrupted gestation illustrates the difference between an essay and a sketch: released prematurely, you see these seed pieces' potential through their thin, new skin, and get a general sense that the writer should have pushed harder and longer, not for length but depth.
Small faults aside, this book is, as Mr. Fagen might put it in his Jazz Age vernacular, solid, no jive. Entertaining and informative, amusing and surprising, Eminent Hipsters offers a strong contribution to the American music writing canon, especially jazz writing. Proudly shelve it alongside Nat Hentoff's and Whitney Balliett's books—not because they're equals, but because these are Mr. Fagen's antecedents, authors who, consciously or not, influenced him as much as Mancini.
I hope Mr. Fagen continues writing profiles of interesting musical figures as strong as his Mancini and Boswell Sisters pieces, and that he publishes another collection. If I see Mr. Fagen's name in Down Beat's or Rolling Stone's table of contents, I'll buy that issue. I'll buy that second book, too.