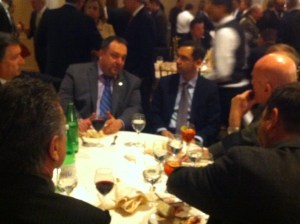 SECAUCUS – A long line of people trailed out of the Queen Room at La Reggia in Secaucus on Wednesday night, waiting to shake hands with one of New Jersey's newly-crowned political kings.
At the first fundraiser for state Assembly Speaker Vincent Prieto (D-32) since he assumed the high-ranking position in January, a parade of politicians, political players and labor union leaders assembled to both pay tribute and to show North Jersey force during an interesting time in statewide politics.
Prominent North Jersey Democrats rolled into this Hudson County town on the edge of the Meadowlands as the administration of Republican Gov. Chris Christie finds itself mired in the swamp of scandals centered around the September lane closures at the George Washington Bridge, also known as Bridgegate, and post-Hurricane Sandy aid distribution.
Essex County Democratic Chairman Leroy Jones, Jr. and Phil Alagia, chief of staff to Essex County Executive Joseph DiVincenzo, were at the Prieto fundraiser. Bergen County Freeholder and County Executive candidate Jim Tedesco was also there, joined by fellow Bergen Freeholders Tracy Zur and Steve Tanelli, as well as Assemblywoman Valerie Vainieri Huttle (D-37) and Bergen County Democratic Chairman Lou Stellato.
Stellato, after making jokes about Secaucus' late 1960s secession attempt to join Bergen County, spoke seriously about North Jersey Democratic unity behind Prieto's Assembly leadership.
"We have made an amalgam between Hudson, Passaic and Bergen that's stronger than ever," Stellato said to sustained applause from the more than 150 Prieto supporters in the room. "We understand the moral obligation of government, and what we have to do as Democrats, to go onward and upward on a local, state and national level. Vinny gets it, he genuinely gets it."
"[Prieto] is now in a position of real authority and real power," said State Senator Nick Sacco (D-32), a longtime ally of Prieto. "Power, if not used, is wasted."
In his remarks, Prieto, who is also the Hudson County Democratic Organization chairman, offered a hint as to how he might wield that power in the months ahead.
"When you put Hudson with Passaic, Bergen and Essex, North Jersey is lockstep," Prieto said. "We are just natural allies, because we have the same common problems as we in state government try to deal with that and make a difference."
With all the trouble in Trenton, PolitickerNJ.com asked Prieto which potential Democratic gubernatorial candidate, Jersey City Mayor Steve Fulop or State Senate President Steve Sweeney (D-3), holds the edge as both politicians position themselves for a statewide run. Fulop was sitting at a table in the middle of the room before the speeches began Wednesday night, surrounded by labor union leaders and engaged in deep discussion.
"It's important that [Fulop] is here for me today. But right now, [the gubernatorial race] is way off," Prieto said. "All that stuff will sort itself out."
Before the labor leaders retired to sort things out and to toast former world middleweight boxing champion Vito Antuofermo at the La Reggia bar, Fulop paused to assess the soft-spoken Prieto's place in hard-hitting New Jersey politics.
"[Prieto] is a very easy-going guy, but people shouldn't mistake niceness for weakness," said Fulop. "Don't sleep on Vinny."