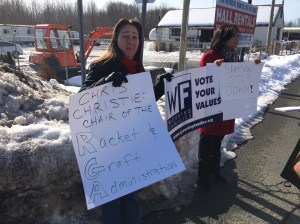 PORT MONMOUTH – Ahead of Gov. Chris Christie's first town hall since his re-election, about a dozen protesters gathered outside of the event calling on the governor and members of his administration to resign.
Analilia Mejia, executive director of the left-leaning Working Families Alliance, was among the protestors holding signs critical of the administration. Mejia, whose group collected thousands of petitions calling on the governor to resign, was at the Port Monmouth town hall because of the controversy surrounding the George Washington Bridge lane closures.
"He should absolutely resign," she said, referring to Port Authority Chairman David Samson.
"[Christie] should ask for all these corrupt officials to step down," she said. "How much do we have to take before New Jerseyans get a better leader?"
A number of vehicles traveling along the state route where the protesters gathered honked their horns in support as the group held signs and spoke with reporters ahead of the town hall meeting.
"Chris Christie: Chair of the Racket & Graft Administration," read a sign held by Fran Ehret, another member of the Working Families Alliance.
"Other public employees would have been fired for less," said Ehret, speaking about Samson.
The governor's event is slated to begin at 11 a.m.
Check back with PolitickerNJ.com for updates.