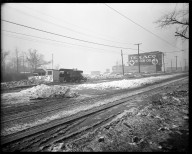 The Queens Library is doing its part to keep the borough from flushing its history away.
In partnership with Historypin, an online archive, the library has developed "Queens: Neighborhood Stories," an interactive crowdsourcing initiative that uses photos, videos and other media to illuminate the everyday lives of people who have lived in the most culturally diverse county in the United States.
Residents can log onto Historypin and upload their historic material, which is then pinned to an online map where users can browse it by date and location. The images can even be overlaid with modern Google street view images, to get a true picture of the past.
Many local Queens organizations are taking part in the history project. The Court Square Community Library in Long Island City is holding a program on February 11 to digitize archival materials for free.  The Bayside Historical Society is also spearheading an initiative in that neighborhood.
"From scanning family photos to locating where photos were taken, we want as many people as possible to share, record and contribute their neighborhood history," the library said in a statement to DNAinfo.
The "Queens: Neighborhood Stories" Historypin already has many intriguing submissions,  ranging from a vintage 1911 postcard of Steeplechase Park in Rockaway submitted by the Queens History Project  to a 1955 photo submitted by user Charlotte Goodhart of her father and grandfather headed to the synagogue in Little Neck.
 Crowdsourcing history through a modern time capsule-Queens has never "met" a better idea.