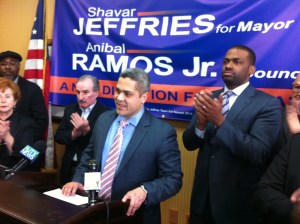 NEWARK – North Ward Councilman Anibal Ramos, Jr. officially dropped out of the Newark mayoral race on Wednesday, offering his support to candidate Shavar Jeffries.
"Today I'm announcing that I'm proud to support Shavar Jeffries for mayor, and I am running for another term to represent the great North Ward," said Ramos to sustained applause in a packed conference room in the Robert Treat Hotel. "This is by far the most difficult decision that I've had to make in my political career, because serving the residents of this community as mayor in the city where I was born and raised has always been my dream."
Ramos continued, his voice momentarily tremulous.
"However, after much reflection and soul searching, I've come to the conclusion that withdrawing from this race is what's best to move this great city in a new direction."
In the process of endorsing Jeffries, Ramos threw a barely-veiled jab at the other main candidate remaining in the race, South Ward Councilman Ras Baraka.
"Today, Newark stands at a crossroads. Newark needs a leader who solves problems, not someone who throws bricks," Ramos said. "Newark needs a unifier, not a divider. Newark needs a chief executive officer, not a protester-in-chief."
For weeks, establishment Democrats have pressed Ramos to exit the contest to support former Assistant Attorney General Jeffries against Baraka.
The Newark mayoral race, now sharply focused on rivals Baraka and Jeffries, may become even more clearly defined within the hour. Mayoral candidate and Central Ward Councilman Darrin Sharif has scheduled a 2 p.m. press conference, also at the Robert Treat Hotel, to make an announcement about his campaign.