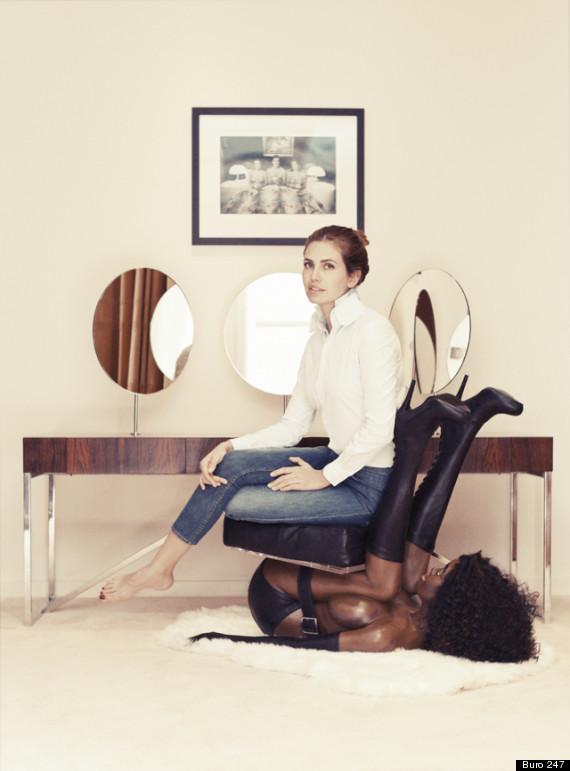 For years, activists including designers and models have complained about the lack of diversity throughout the ranks of high fashion. However, that complaint has been largely limited to the sad fact of how hard it is to see a non-white face on a catwalk or in a glossy magazine.
Unfortunately, what has emerged recently is a more pernicious and overt form of racism, which stretches beyond mere exclusion and dips into the ugly pools of ugly stereotypes. The Observer has new information on a nasty story that developed over the weekend.
On Friday, the Observer published a story in which Elana Rosenblatt, a producer for the eco-friendly fashion company Reformation, posted a photo of herself and a friend eating fried chicken. She then posted the photo on Instagram and noted for her 7,000+ Instagram followers that she had taken the photo in celebration of Black History Month.
Outraged comments on her Instagram page persuaded her to take it off Instagram hours later, but not before a screen cap of that shot had begun making the rounds. Indeed, Ms. Rosenblatt appears to have left the photo up on her Facebook page quite a bit longer than she had on her Instagram page. According to Deirdre Harris, the Founder of Minority Women In Fashion, "Some 2 Days later, a MWIF staff member took a screen shot of Ms. Rosenblatt post again. …  she perhaps thought it would be 'edgy' to keep the image up of her grimacing while eating fried chicken, but removed the caption 'Happy black history month' as by this point she had gained 200 likes. Should we believe these are the actions of someone who immediately 'removed the post as soon as they felt it may cause offense'?"
Soon Reformation's PR machine leapt into action. Fashionista, which has covered Reformation lovingly in the past, took its version of the story down, but The Observer—and several others including Fashion Bomb Daily, Racked, The Gloss, and Hello Beautiful—did not yield so easily to the aggressive public-relations pushback.
One of Ms. Rosenblatt's representatives e-mailed The Observer asking us to remove the post and oddly noted that the photo had been taken while Ms. Rosenblatt was at the home of an African-American friend. Despite the "some of my best friends are… " defense, the Observer declined to remove the story, though the Observer did add a correction (an earlier version of the story had identified Ms. Rosenblatt as the CEO rather than a producer; Ms. Rosenblatt has referred to herself on LinkedIn variously as a producer, VP of Sales, and COO of Reformation) and also included some of the odd language from the PR representative's request.
Eventually, Ms. Rosenblatt posted what read like a sincere apology on her Facebook page. Several of her friends expressed their support, including a gentleman who says he was the host of the party at which Ms. Rosenblatt consumed the controversial fried chicken. In supporting his "friend of 10 years," Sean Bz wrote, "If I didn't know [Elana Rosenblatt] or have the back story of what the gathering was I would look at the picture slightly suspect, [but] given the actual situation there was nothing racist about it." (Ms. Rosenblatt did not respond to requests for comment on this story. Reformation CEO Yael Aflalo, who reached out to The Observer to request the story be removed and cited Fashionista's decision to do so, also did not respond to requests for comment.)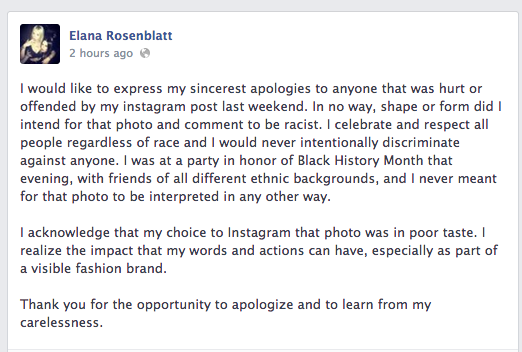 Fine. Let's consider this event closed.
However, even within this one regrettable episode, more is revealed about the tenacious grip of racism in the fashion industry. None of the publications that wrote about the original photograph mentioned the other woman pictured with Ms. Rosenblatt. At first, that made sense. All she seemed to be doing was enjoying a snack—no offensive race-baiting stereotypes in any public postings.
In fact, The Observer has learned that the woman to Ms. Rosenblatt's left in the photo is Christina Tang, the founder of the brand Kova & T. Ms. Tang's Kova & T co-founder is her childhood friend Dasha Zhukova. Does that name sound familiar? When she's not designing clothes, Ms. Zhukova is the gorgeous, lithe Russian who edits Garage magazine. She sometimes even finds time to be photographed sitting on top of a chair that looks like a mostly naked black woman in high heels. On Martin Luther King, Jr. Day. Yep.
And then came the apology. You might recognize some of the language. " I utterly abhor racism and would like to apologize to those offended."
What's going on here?
"Fashion is more racist than any other industry," said Nneka Udoh, a 33-year old African American attorney and amateur observer of the industry. "It's been talked about a lot, but no one seems to do anything about it. Acts like the ones committed by Zhukova and Rosenblatt will just be swept under the rug to make room for the next racist act that is sure to follow. And a solution is not as simple as boycotting certain companies because, we'd face the possibility of having to go naked—that is how rampant racism is in the fashion industry."
Ms. Harris from Minority Women in Fashion agrees. She told The Observer: "All too often these type of stories are simply swept under the rug because they are 'bad for business' and discussions about race and racism continue to make the fashion industry uncomfortable." Speaking of Ms. Rosenblatt's post, Ms. Harris said, "It was deeply offensive for her to perpetuate age-old stereotypes and particularly hurtful that in 2014 these type of actions are all to commonplace."
The Observer does not expect any particular heightened sensitivity from those who make their living looking beautiful or portraying those who do. But there's also no reason to excuse obnoxious behavior or to yield to aggressive attempts to silence criticism of that obnoxious behavior.