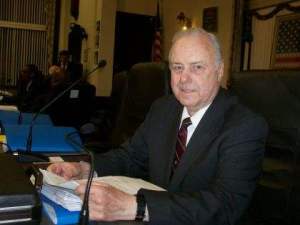 Retired Ward 6 Councilman Tom Rooney today endorsed Jose "Joey" Torres for mayor of Paterson.
"It is so easy," said Rooney, who served 28 years on the council and retired in 2008. "It's not hard at all. Andre (Council President Andre Sayegh) is a very nice guy, but it's one thing to be a councilman and it's another to be the executive. We've seen that with Jeff Jones, who I served with on the council. The mayoralty has been terrible.
"But with Joey," Rooney added. "I was there for six of his eight years as mayor, and the main reason I would support him over Andre and the other people is the city now is in such an awful mess, we need someone who can go in there right away and do the job. We need someone who can get rid of these terrible differences between Paterson and state government. The fact is, Joey worked very well with Trenton and the council. What Joey accomplished as mayor here was extraordinary. He brought Home Depot to Paterson, and Loews. Look at Center City.
"Joey accomplished more in new construction than others did in generations."
Rooney said if Torres weren't running he would back Councilman Ken Morris, who is pursuing re-election to the council.
Sayegh, who ran for Rooney's seat in 2008 with the support of the veteran councilman, said, "I respect and admire Tom Rooney and I certainly will continue to pursue his support."