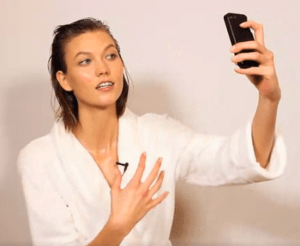 Selfie Stunners. A bunch of girls who can pull off duckface got together and shot a video on how to make selfies for W mag. It's two minutes long for some reason, and it will probably make you feel bad about yourself because all the girls happen to be supermodels.
"Go a little bit higher, sort of find the good light," Karlie Kloss kouncils in a Madonna‐esque mid‐atlantic accent. "I like to blow a kiss."
"I put [the phone] high up like this," Adriana Lima says, before getting distracted by her amazing reflection and trailing off mid‐sentence to take a picture. "I don't like to do it — oh, well…"
iNasty. Boss‐ass NastyGal CEO Sophia Amoruso showed off an Apple nametag on Instagram three days ago. Does this mean a retail app's on its way? Maybe some Apple connected wearable tech, complete with strategically placed cutouts? Hopefully the deets will be available in her forthcoming hashtag‐entitled memoir….
http://instagram.com/p/kANz7aIfTi/
Drone-mance. We suppose if you're not wasting your time on a reality show, you have plenty of time to kill. That's what's happening to Brody Jenner who posted–then deleted–a video of himself playing with a drone in doors. Luckily for us, there's a screenshot of Hot Jenner holding the flying robot's remote and that'll have to do for now.
Model music. Want to feel more like a supermodel? DNAinfo has compiled a Spotify playlist inspired by the music preferences of various NYFW models, who are all really cool and definitely have more interesting music tastes that you. "Mine" by Beyoncé featuring Drake, "Like a Rolling Stone" by Bob Dylan and "Do I Wanna Know?" by the Arctic Monkeys all made the list.
No word yet on whether listening to the playlist will make you look any more like a supermodel. But it most probably won't.
Glasshole Fashion Week. Step backstage at a NYFW show, and you might come face-to-Glass-covered-face with a WWD reporter. This Fashion Week, WWD has equipped its reporters with Google Glass, so they can "capture videos on the fly and create other interactive content, including GIFs, from behind the scenes," WWD's website says.
Cool, GIFs! This all sounds very high-tech.
Whatever—as long as we don't see Google Glass strutting down the catwalk, we're fine.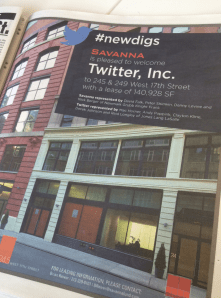 Welcome home. Savanna Real Estate took out a splashy ad in the New York Post this week welcoming Twitter to its new Midtown South Chelsea home. Obviously it's draped with a hashtag (in this case: #newdigs) and a sturdy slap on the back for getting the deal done. Its location is also printed so send your letters there to complain about how you're not verified.