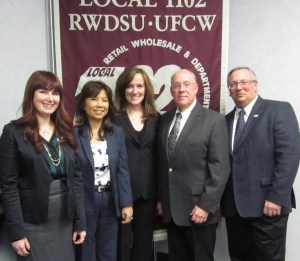 Nassau County District Attorney Kathleen Rice today netted the first major union endorsement in the race for retiring Congresswoman Carolyn McCarthy's seat.
The Retail, Wholesale and Department Store Union is backing Ms. Rice, a Democrat, for the seat Ms. McCarthy is vacating at the end of the year, Politicker has learned. Ms. McCarthy is retiring after revealing that she is battling lung cancer. 
"Kathleen Rice has a distinguished record as a problem solver and an advocate for social justice. She's a leader who understands the importance of protecting and creating good jobs," Stuart Appelbaum, president of the 100,000-member RWDSU, said in a statement. "The RWDSU supports her campaign because we know that she will stand up for working families."
The union's endorsement represents the beginning of what may be the coalescing of the left-leaning and labor establishment around Ms. Rice's candidacy. Though President Barack Obama won the district in 2012, it remains a swing seat with a sizable Republican population. No other candidates have officially declared their intentions to run, though national Republicans are eying the seat as part of a larger effort to bolster their congressional majority.
Several Democrats have reportedly expressed interest in running against Ms. Rice, but with her high profile and name recognition in Nassau County, Mr. Rice is the clear early favorite in the Democratic primary.
"I've stood up for working men and women my whole career, and I when I go to Congress their needs will always be at the top of my agenda. I've worked closely with RWDSU and the endorsement of these working families means a great deal to me personally," Ms. Rice said in a statement. "It also means a great deal to the growing coalition of supporters that will propel us to victory on Primary Day and in November."
Ms. Rice ran unsuccessfully for attorney general in 2010.