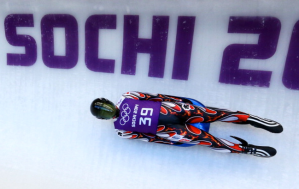 Those Olympic athletes better think twice before taking their opening ceremony selfies tomorrow. 
The details are admittedly vague, but according to the story reportedly leaked by the Swiss Olympic team, athletes are being asked by Samsung to cover up the Apple logos on their phones during the Parade of Nations at tomorrow's opening ceremony. Samsung, a lead sponsor of the Sochi Olympics, is apparently putting Galaxy Note 3 smartphones in all the athletes' gift bags—under the super friendly condition that the athletes literally cannot be seen using anything else. 
The news was first reported on the website for Swiss telco Bluewin. We tried using Google to translate the German to English, and ended up with a sort of comprehensible few sentences:
"Olympic sponsor Samsung wants to see the opening ceremony no competition items in your TV picture," the translated sentence reads. "Those who want to attend the ceremony on Friday…with a competing product which has to cover for example the apple logo."
You get the idea.
The request sounds pretty lame. Honestly, it doesn't matter whether you're using an iPhone or Samsung Galaxy, because you're probably just gonna get hacked either way.