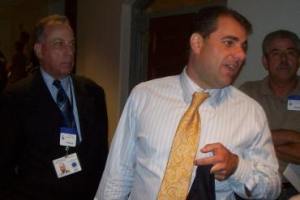 State Sen. Paul Sarlo (D-36) walked out of the Renaissance in Lyndhurst earlier today after conferring behind closed doors with other pooh-bahs in the Democratic Party.
"Bergen Democrats are united. There was a huge show of force behind our candidate and the chairman," announced Sarlo, referring to the deal Bergen County Democratic Committee Chairman Lou Stellato landed to run Freeholder James Tedesco for county executive this year against incumbent Republican Kathe Donovan.
Players in the room this morning included State Party Chairman (and Passaic County Dems Chairman) John Currie, U.S. Rep. Bill Pascrell (D-9), Stellato, Senate Majority Leader Loretta Weinberg (D-37), state Sen. Bob Gordon (D-38), and Sarlo.
Sarlo said Pascrell as the region's congressman helped sew Passaic and Bergen Democrats together and strengthen the party.
"Having Currie and Pascrell is helpful," said Sarlo, survivor of a 2012 bloodbath in which his candidate got the worst of trying to tangle with Pascrell.
"A family feud has turned out to be a winner for both counties," added the senator, who said he is staunchly behind Tedesco.