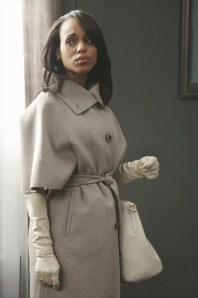 ABC promos have been trumpeting all week that Scandal's mid–season return would contain "100% Scandal Insanity!". And although Scandal is definitely no stranger to out-and-out craziness, fortunately "Ride, Sally, Ride" lacked any of the blood-splattered VPs, wrist-chomping or dental torture we've been subjected to so far this season. Here are the exciting developments it does contain:
Olivia's back in the saddle at the White House!: Olivia and Fitz are back together, with Liv onboard as his campaign manager, although I'm sure something will be along to trip them up in a matter of moments. They're making out in the Oval Office just like old times, except now they do it in front of Mellie. In this week's crisis, closeted-husband killer Sally Langston is going to run against Fitz as an independent, but will retain her current job as VP while doing so. Unfortunately, her guilt about her spouse-icide kicks off a whole stream of "fire of God's wrath" and "turning the devil away from my gate" diatribes that frankly make her sound like she's more than a bit off her rocker. Sally's betrayal sends Fitz off on a drinking-before-lunchtime spiral, and Mellie and Cyrus are just glad to have Olivia in the White House again so that someone else can deal with the vomit on the Presidential seal in the carpet. And Olivia's rousing "Let's get Sally" speech elicits actual applause from Fitz's staff.
Olivia's father vows revenge!: But we know where she gets those speech-making skills, don't we? Olivia has switched her parental allegiance back to dad Rowan, who has been replaced in his Command position at the B613 by Jake Ballard, and is hungry to take down the man he blames for all of this, President Fitzgerald Grant. His rant to Olivia about how he's going to use his own daughter as a weapon against the President is massively epic: "Start grieving now, Olivia. Rend your garments. Curse the heavens. But first: Run." (I know Joe Morton had a run as a defense attorney on Law & Order, but clearly, the man was made for speechmaking, perhaps in a big-screen courtroom drama?) At the end of the episode, Rowan is teaming up with Leo Bergen, Sally's campaign manger, which again spells massive trouble for Fitz. But even though she knows her father is out for blood, so far Olivia has failed to bring this up to the President, which seems irresponsible toward someone she supposedly cares so much about.
Olivia and Mellie have lunch!: As the Olivia-Fitz relationship gets dragged into the spotlight again (honestly, pretty tired at this point), Mellie tries to diffuse the situation by lunching with Olivia in public, with more fake smiles than a Miss Universe pageant:
[protected-iframe id="5c81414b1ade2ca1cf3bd8b069f7446d-35584880-35147716″ info="http://abc.go.com/embed/VDKA0_z8mkhi95″ width="644″ height="362″ frameborder="0″]
Makes sense, as Mellie's hair grows ever more enormous. Possibly to contain all her secret plans, like giving Olivia a list of eligible men to date to help draw attention away from her and Fitz.
But those two just can't stay away from each other, can they? Olivia makes a half-hearted attempt at a resignation from Fitz's campaign after Mellie's lunch, but it's all for naught, and we all know it. "You can't leave me. I'm not losing you again," Fitz stresses in a threatening way. Remember when these two were kind of sweet? Now all of these declarations just seem like shadows of the famous rose garden speech, and the Olivia-Fitz clinches walk a fine line between steamy and disturbing. At least Olivia gets Jake to play her fake suitor, by appealing to his patriotism.
Harrison has a storyline!: In perhaps the most shocking turn of all, Harrison has actual dialogue that does not consist of just grunting in response to someone else. In a surprise turn, his secret friend Adnan Salif turns out to be a female that he has sexy office sex with, gun and all.
In less interesting news, Scandal's creepiest couple (which is definitely saying something), Charlie and Quinn, have taken to childnapping as they make off with a coroner's son in a scene designed to remind parents to give their kids yet another stern talking-to about stranger danger and how we do not just wander off with anyone who offers us ice cream after school. In the end the disgraceful duo outsmart the gladiators with a fake backstory about Daniel Douglas that's much less scandalous than him getting stabbed by his wife. Also: hardware-store shopping is key for the budding torture couple (drills, blowtorches, plastic tablecloths).
Everybody has a weakness. In the high-stakes world of Scandal, those weaknesses are people's feelings for other people. Rowan is going to use Fitz's feelings for his daughter against him. James is going to use Cyrus's blindsided, underestimating love for him to take him down. The word "monster" keeps popping up this week as a way to defend these actions, referring to Cyrus (definitely: egomaniacal, powerful) and also Rowan. Olivia points out that he wasn't always a monster, as he started out "trying to keep us all safe," but time, secrecy, and power all eventually made their mark, and now she's afraid the same thing will happen to Jake. (ClunkyScandal dialogue: "I serve at the pleasure of the president of the United States!" Really, Jake?)
This folds into the other concepts getting tossed around this episode: Republic. Democracy. Patriot. As Olivia despairs to Jake over her red wine (we get not one but two Olivia drinking scenes this episode, always a good sign), she started out wanting to work for the greater good, in service to the public, God, and country. But as we watch various characters working just to basically cover themselves–like Fitz, Cyrus, Mellie, even Sally–who can tell anymore? Is the republic really better off? Or, as next week's promos hint in such a sinister way, is the entire "republic" really in peril because of all of this?
"Ride, Sally, Ride" is full of the frothy machinations that Scandal does best, thankfully lacking the things it does not (torture, parental issues). It sets up a veritable plot pyramid for the season's final seven episodes: James bugging Cyrus and conspiring against him with David. Leo partnering with Rowan to take down Fitz. The looming bombshell of the real circumstances behind Daniel Douglas's death (Most ridiculous question ever posed on Scandal, from Abby: "Are you saying there's a coverup?"). Some storylines are not so great: Charlie and Quinn could fall off a cliff and I would defy any viewer to notice; also, Harrison's dangerous sexytimes are going to need some fleshing out, so to speak. But "Sally" also contains possibly the most promising development of all: Mellie's past (and possible future) love affair with Andrew, her husband's new running mate. God knows it's about time that woman had some fun in her life.