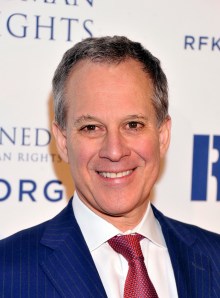 Attorney General Eric Schneiderman confirmed today that he doesn't wear eyeliner–contrary to Gov. Andrew Cuomo's reported inquiry on the subject.
"I don't wear eyeliner–not that I would have any problem with anyone who chooses to wear eyeliner," Mr. Schneiderman told Politicker–perhaps channeling a famous episode of Seinfeld–when asked about the report and his overall relationship with the governor.
Mr. Cuomo's quote came in a front-page New York Times story last month about growing tensions between himself and the attorney general that stemmed from a dispute over how to spend a $613 million settlement with JP Morgan Chase. At the time, Mr. Schneiderman took to Twitter to post an "#eyelashes" joke in response.
The two officials subsequently reached a truce in their disagreement. And today Mr. Schneiderman said his relationship with Mr. Cuomo was "very strong."
"My relationship with the governor is very strong. My office represents his agencies, my lawyers talk to his people probably dozens of times every single day," he said, taking questions after an unrelated Manhattan press conference. "Other than that, I don't have any comment … But my relationship with the governor is fine."
As for his eyes, Mr. Schneiderman said today, "I have taken these eye drops for a condition I've got. It has the side effect, well-documented, of making your eyelashes longer and thicker."
"People told of his condition say he has glaucoma," the Times report said.