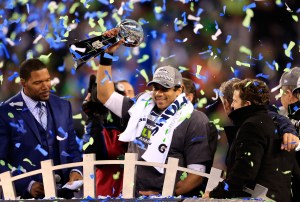 The Super Bowl might touch down in New York twice in one decade–at least if Senator Chuck Schumer has his way.
Mr. Schumer held a Midtown press conference this morning to call on the National Football League to let the city host the big game again soon–ideally in 2019 or 2020.
"There are a few cities that constantly host the Super Bowl," he said. "Houston, New Orleans, Phoenix, Atlanta. We should be on that list."
"Maybe next time the Giants will play the Bills or the Jets in the game — now that would be really Super," he added in a statement.
Last night's game received generally positive reviews from spectators, undoubtedly helped by the unexpectedly warm weather.
"By many accounts, it was the best Super Bowl week experience anyone has ever seen. The security was top notch. The atmosphere was electric. And even the snow stayed away until today," Mr. Schumer reflected at the press conference. "With whatever problems there were, it was a home run."
Some had questioned the wisdom of hosting the February game in New York's colder climate in an open-air stadium, but the senator presented New York's weather as a game-changer, rather than an obstacle. "There's nothing more exciting than the variable of weather," he said. "I think if you asked NFL fans, they'd say having the element of weather is a good idea."
He was also quick to defend the city against accusations of inadequate transportation after legions of fans were trapped at New Jersey's Secaucus Junction after the game. New Jersey transit authorities had planned for 15,000 riders, but instead saw 28,000 fans flocking to the railway after the game.
"The real problem there was not New York, it was New Jersey, let's call it right," he told reporters. "They needed more trains. They did not put enough trains on, and that's easily corrected for the next Super Bowl."
Overall, Mr. Schumer said his favorite part of the experience was the Times Square toboggan ride he enjoyed with Mayor Bill de Blasio and his family.
"Aside from watching the game with a group of friends, it was the toboggan slide in Times Square," he said. "I enjoyed it so much I slid down twice."