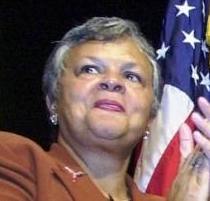 The announcement yesterday for Assemblywoman Bonnie Watson Coleman (D-15) by the Reverend Doctor Ronald Owens put an exclamation point on the assemblywoman's alliance with former state Sen. Barbara Buono (D-18), last year's unsuccessful Democratic candidate for governor.
Chair of Buono's gubernatorial campaign, Watson Coleman noted that she stood and fought for Buono while other Democrats fled in the face of a seemingly invincible Republican Gov. Chris Christie.
Owens surfacing as Watson Coleman's first endorsement out of Middlesex bears a Buono stamp, and may be indicative of Watson Coleman's intentions of reclaiming a moral argument from the wreckage of the Buono Campaign as she seeks support toward her CD12 bid, sources say.
Buono formally endorsed Watson Coleman this morning on Blue Jersey.
Christie's Bridgegate weakness may translate into Buono strength in a Democratic Primary, or so Watson Coleman appears to be arguing in her underlining of Owens and embrace of the former state senator.
The former vice chairman of the Middlesex County Democratic Organization and senior pastor of the New Hope Baptist Church of Metuchen, Owens introduced Buono at her campaign kickoff last year and was her resident cleric emeritus.
The pastor's presence early in Watson Coleman's corner had insiders yesterday wondering if Buono and Milly Silva rollouts are next for the Mercer Assemblywoman, locked in a fight for the seat of U.S. Rep. Rush Holt (D-12) since the congressman's retirement announcement last week.