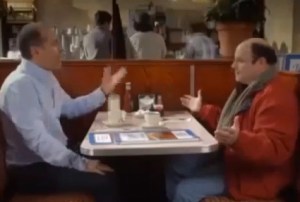 Last night, in between Bob Dylan asking hypothetical questions about America and Axe body spray saving the world, one disgusting scent at a time, we saw the fruits of Jerry Seinfeld's labor outside of Tom's restaurant from a couple weeks ago. It was a Super Bowl commercial after all! Even though he promised us on Friday that the secret project with Jason Alexander was not going to be a commercial during the game, Seinfeld turned out to be a liar.

[youtube http://www.youtube.com/watch?v=FhmpTxLhqzU&w=560&h=315]
In our minds, this spot (for Comedians in Cars Getting Coffee) is only slightly better than that yogurt commercial with the guys from Full House. And yes, even though we should have parsed Jerry's double-speak (he originally said the spot wouldn't be a Super Bowl commercial, but then added that it wasn't not-not that either, which is all very ?????), we still feel like we were duped into believing that this Seinfeld reunion was going to happen.
You broke our hearts, Jerry. We know it was you, and it broke our hearts.