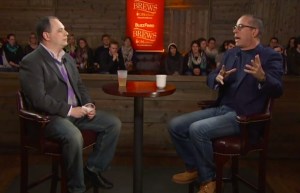 You don't want to make Jerry Seinfeld angry, as Peter Lauria, business editor at Buzzfeed, found out during a snowy Monday night conversation with the comedy guru. Held in conjunction with CBS's This Morning, BuzzFeed Brews, a live-streamed event, revealed what some of us Jerry-heads have known for awhile: We won't like him when he's angry.
"This really pisses me off," Mr. Seinfeld said, after snarling at Mr. Lauria for questioning his use of mainly "white males" in his web series Comedians in Cars Getting Coffee. "Take a look over here, Peter," he bristled. "What do you see? A lot of whiteys."
"People think it's the census or something, it's gotta represent the actual pie chart of America. Who cares? Funny is the world I live in. You're funny, I'm interested. You're not funny, I'm not interested."
And to think this all started over a Super Bowl ad.
[youtube http://www.youtube.com/watch?v=7RxKMvX7LRA]B
 Back in January, some enterprising wanna-be paparazzo snapped a picture of Jerry Seinfeld and Jason Alexander filming at Tom's Restaurant, whose exterior was made iconic as the hub of all Seinfeld-related activity.
Rumors sprung up immediately…Jerry was going to be hosting a Seinfeld reunion! The comedian did nothing to dissuade the gossip, instead going on a media blitz, teasing out a "secret" project with Larry David, taking to Reddit's AMA forums, hosting his own "Ask Me Anything" on Jalopnik.com, and telling WFAM's Boomer & Carton last week that that the filming at Tom's was not for a commercial, or an episode of his web series Comedians in Cars Getting Coffee. Later in the interview, he conceded that the filming was "not not those things, either. It's a secret project."
So imagine our surprise when the whole ordeal turned out to be for a Super Bowl commercial promoting Comedians in Cars Getting Coffee! Jerry! (Imagine us saying that Newman style, with our fists in the air.)
The ad, which was seen by approximately 112 million viewers and garnered "$12 million in free advertising," according to Mr. Lauria, was apparently a sore subject for Mr. Seinfeld, who refused to engage any questions about his business acumen.
"In the arts, the only way to make money is to not consider making money," he said, adding later, "I don't really care about business." Forgive us for wondering why he agreed to be part of this program in the first place. (Mr. Seinfeld did admit that his web series has "made money" for Sony, though he refused to go into any more detail, presumably because he is a comedian golden god and doesn't have to talk about anything he doesn't want to do, suck it nerd losers.)
We have to admit, the man is good at evasion. The posturing that Mr. Seinfeld adopts–the chronic eye-rolling; the sarcastic "Now finally a good question!" snark when the topic turned to Newman–is a very specific strategy, one that the millionaire comedian has played before.
Just look at his Larry King interview from 2010, when he ripped into the famed anchor for daring to clarify whether Mr. Seinfeld had left the show or had it canceled on him: "Is this still CNN? I was the number one show on television, Larry! Do you know who I am? 75 million viewers! Last episode! It's a big difference, between being canceled and being Number One! Jeez!"
[youtube http://www.youtube.com/watch?v=RVTP8xZCGVw]
It's an effective technique: by playing offense, Mr. Seinfeld skillfully delegitimizes any question he doesn't feel like answering. He employed it repeatedly during his interview with Mr. Lauria, to it's intended effect: No one paid attention to the fact that Mr. Seinfeld was being evasive, just to the idea that he was pissed off.
On the promotion of the ad as a Seinfeld reunion: "It's 90 seconds Peter, what am I going to jam in here?"
On whether the commercial was "testing the waters" for a bigger reunion down the line: "Testing the waters? No, no, no testing of water. I don't test water."
On his financial success allowing him to work on vanity projects where he interviews his friends in his nice cars: "Well, that's why money isn't a concern for me, Peter. Because I do it in such a way that makes money."
This defense mechanism of Mr. Seinfeld obviously served a purpose, mostly to railroad Mr. Lauria and avoid giving the kind of answers like the one he was forced to: "I don't know if this is where video viewing is going," he said about working with digital content, "but I think the network medium of the Internet offers opportunities that are more unique than have ever existed."
If that sounds vague, well…you can just say he's working on another show about nothing. Just don't tell Jerry Seinfeld you said that, because among a myriad of other things, the comedian apparently takes offense to that description as well.