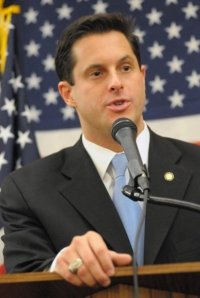 One outspoken Republican lawmaker thinks Mayor Bill de Blasio's plan to issue municipal identification cards will empower terrorists if it becomes law.
Hudson Valley State Senator Greg Ball today blasted Mr. de Blasio for his plan to create a municipal ID card intended to aid undocumented residents. For Mr. Ball, the chair of the Homeland Security and Military Affairs committee, the ID card proposal is nothing more than a "hair brained scheme" that will become a "homeland security nightmare."
"Now a decade plus after 9-11, New York's extremist Mayor is laying out a hair brained scheme that can simply be dubbed the 'de Blasio Terrorist Empowerment Act,'" raged Mr. Ball in a statement. "My concern is not about the illegal alien dish washer looking to get to work, this extreme Mayor's proposal, joined by efforts in the New York State Senate to provide New York State driver's licenses to illegals, will simply provide a mask to those seeking to harm the United States."
Mr. Ball, no stranger to incendiary statements, said a "crazed" Mr. de Blasio could enable terrorists to hide under aliases and fake identifications in the city and that his plan "constitutes a felony by the Mayor for aiding and abetting." 
"While this new Mayor is now free to focus on carriage horses and beyond, he should look back in recent memory when more responsible Mayors took terrorism and security more seriously," Mr. Ball continued. "Beyond the fact that this action, if the federal government actually enforced its laws, constitutes a felony by the Mayor for aiding and abetting, this Mayor's proposal is a homeland security nightmare, and must be stopped."
Mr. Ball said he will be hosting a homeland security hearing about Mr. de Blasio's plan on February 28 in the city.
Mr. de Blasio's office did not immediately return a request for comment. But at his State of the City speech this week, the mayor defended his plan by arguing it would bring immigrants out of the shadows, ultimately helping them open bank accounts, lease apartments and file police reports.