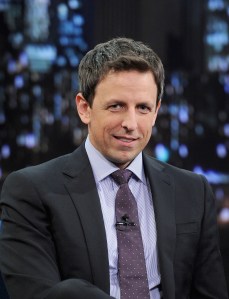 Jimmy Fallon isn't the only reason to keep your TV tuned to NBC while nodding off after a long day: Starting tonight, Saturday Night Live and Weekend Update star Seth Meyers will be taking over Late Night at 12:35. (So technically, it's Tuesday morning, but who's keeping track?) The newly minted host took a moment from the frenzy of his weekday debut to talk to The Observer about diversity in the writers' room, Fred Armisen's music curation, and a potential True Detective parody.

Observer: Okay, first question. We saw your tweet about being a True Detective fan… Any chance of seeing a parody on Late Night?
Seth Meyers: I have a pretty good idea for a True Detective parody, but I don't want to give it away. If it's too big of a sketch I might just take it upstairs to my friends at Saturday Night Live.
Observer: That tracking shot in episode four…
SM: It was unbelievable. I will say that I was not sold on that show the first episode, but I am totally sold now.
Observer: Everyone knows the Weekend Update formula. Have you figured out where the emphasis of your show is going to be? Is it going to be sketch-heavy, or relying on the all-star interview lineup you've put together?
SM: We keep saying that we're not trying to deconstruct the Late Night model. We like what's been done in the past. We have two test shows under our belt, which is an incredibly small sample size. We're okay with the monologue, having two or three pieces of comedy. They're written, I'm not sure if I'd go so far as to call them sketch. They're kind of desk pieces… You know, I actually would call them sketch. Some are newsy, some are our writers playing characters. We have a lot of writers who are also performers, so we're trying to use them a lot in the show.
| | |
| --- | --- |
| "I think what's also getting diversified is the submissions to late night shows. It's not like we're going out of our way to do this. When you're looking on Twitter, and looking to see people, it would be hard not to be diverse."—Seth Meyers |   |
Observer: The news of your writers' room hirings has been followed pretty closely. What qualities were you looking for when putting together a staff?
SM: On Saturday Night Live, a writing staff is made up of people who are good at doing different things. It's a little different here, where there's only one host, instead of a constantly changing host. Putting together a staff was like going on a really exciting shopping spree, because there were people we liked from Twitter, people we liked from stand-up, people I knew from the Chicago comedy scene, from Montreal's Just For Laughs (where SNL scouts.) It was a fun putting it together, like "What don't we have?"
Observer: It made the news when you hired Amber Ruffin, who I believe will be the first black woman to ever write for a late night talk show.
SM: Yeah, I had no idea. I've known Amber forever, since we worked together in Amsterdam in a place called Boom Chicago. She's a great writer, a great performer and we're really lucky to have her.
Observer: Was diversity something that you thought about after last season of Saturday Night Live?
SM: I think different voices in writers' rooms are very important. I will say now, what's also getting diversified is the submissions to late night shows. It's not like we're going out of our way to do this. When you're looking on Twitter, and looking to see people, it would be hard not to be diverse.
Observer: Your first couple nights have an amazing lineup: Kanye West, Lena Dunham, Joe Biden. All three have been satirized on SNL; how do you approach interviewing the real-life versions of people you've had parodied?
SM: I've been lucky enough to meet Lena a few times, and Kanye has come through SNL over the years, though this is certainly the first time I've met with either of them on television. You can't gear up for it too much. I think you have to approach the conversation the same way, which is to have an interesting conversation that people would want to watch. If it's not interesting, it's most certainly my fault.
Observer: And snagging the VP…can we expect the show to take a political stance?
SM: I think we want to have a lot of politics on the show. Having Biden on the first show, I will say it won't be our most hard-hitting political interview.
Observer: You're going to softball the Biden interview, is what you are saying.
SM: Well, we'll see what happens between now and the 24th.
Observer: I think you should really grill him on domestic policy.
SM: I think that's what everyone really wants to see. I do think politics is something me and my staff care about, so we're going to try to get it into the show as much as possible.
Observer: Speaking of stuff you care about…sports!
SM: Sports!
Observer: I know you love sports and have a great head for statistics, is that going to be woven into the show at all?
SM: I don't think it's going to be a huge thing. I do enjoy sports, but I want to have athletes who are interesting on the show, as opposed to just having athletes. In the end, when we're looking at all the worlds we're pulling from, we don't just want people with different careers and professions. We want the interesting people. And look, if you want to watch athletes talk all day, there is a better place to do it.
Observer: Isn't that called NBC during the Olympics?
SM: You can't blame NBC for that! It costs a lot of money, and I'm not going to talk badly…but yes, athletes, sure. But not more so than people from other places.
Observer: You've recently gotten married and left your position as one of the longest-running members of SNL. While hosting your own show is hard, Saturday Night Live is notorious for having insane hours. Do you find it easier to schedule around your home life now?
SM: I will say that as a newlywed, this is a far better schedule. The thing is, with a show like this, you have to do it every day, but then you get to go home because you have to be fresh for the next day. Whereas on SNL, you don't get a Saturday, and it could be Wednesday night and you are there until 2 in the morning, because you're just thinking about a thing without being able to do it yet.
So now hopefully my wife and I will be able to have dinner together instead of just a bleary-eyed Sunday staring at each other over Chinese delivery.
Observer: Fallon kind of brought social media to the late night world. How do you plan on putting your stamp on it?
SM: No one is launching shows these days without understanding that digital is really important. You have to be a digital savant to know that. It's like, when my mom's on Twitter, it's official. And from the beginning NBC has had a team that knows how important that is.
With that said, I feel like you have to know that digital is important, but come up with your digital ideas organically, if that makes sense. The audience today is really savvy, and they can sense if something feels a little bit constructed. Whereas if you do funny things with a digital element, it can work out really well.
Observer: So Armisen becoming your band leader/curator. I'm still mind-blown about the term "band curator" in this context.
SM: I can explain it: We hired Fred and he put together a band, as opposed to hiring an existing band. You know, Fred wasn't in an existing band at the time. But his expertise in music is so much bigger than ours. So we just turned over the keys to him on the music. We're still working out the details on what that will entail, but the people you see playing the first week, the idea is that they will be our 8G Band.