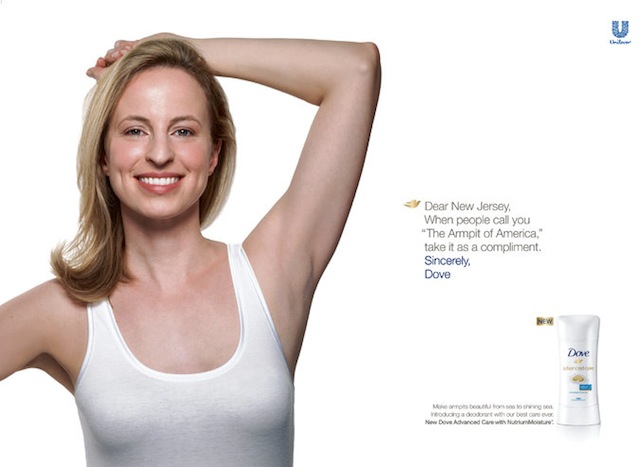 Thanks to a new Dove billboard campaign in New Jersey, there might be traffic problems throughout the whole state.
The personal care company is advertising a new line of products by putting a positive spin on the Garden State's bad reputation. The campaign's tagline, which will be put up on billboards throughout the state this summer, is "Dear New Jersey, When people call you 'the Armpit of America,' take it as a compliment. Sincerely, Dove."
The billboards are meant to advertise new Dove Advanced Care, which women can use to moisturize their armpits so they can be comfortable going sleeveless in the hot weather and avoid razor stubble. The campaign also features TV commercials in which women write open letters to their armpits.
[youtube http://www.youtube.com/watch?v=Iqm545KNet0]
"It was a very conscious decision because people view 'armpit' as a dirty word," Nancy Vaznonis, a creative director at Ogilvy and Mather, the ad agency behind the campaign, told the New York Times. "We wanted to change the preconception of it as dirty."
How refreshing. Now if only someone would give this kind of  treatment to Bridgeport, Connecticut.