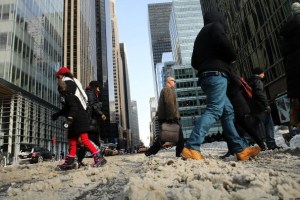 New York is starting to remind us a lot of "that" relative we never wanted to stay with as a kid.
First there is the un-entertaining games, then it took forever to leave, and a lot like that relative's cooking—we need a whole lot more salt.
The second of two winter storms to slam into the Big Apple in three days has left New York's salt supplies a tad depleted, according to Governor Andrew Cuomo.
Despite telling the Daily News in a conference call that the storm was "not anything we didn't expect," Governor Cuomo called the salt shortage a "complicating factor."
Mr. Cuomo did note that New York state has a 3,500 ton supply, but most of it is being diverted to the city and Long Island, where the salt is needed the most.  
"We have enough of a supply now to be able to help localities that have a truly dire situation," he said in the same conference call.
Emphasis on the very ominous "now."
New York is looking at yet another storm on its way this weekend, which would pile more on to the four inches of snow and half an inch of ice already blanketing the area.
The Observer received un-confirmed reports of prices skyrocketing in areas such as Harlem, and word of bidding happening in stores over bags of salt.
We won't lend rumors to the "Black Ice Market" (a name we totally didn't just make up), but be careful out there on the streets. Those slippery, slippery streets.