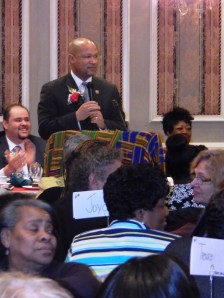 PATERSON – It was inevitable.
Jersey City Mayor Steve Fulop's endorsement of Newark mayoral candidate Ras Baraka would irritate people, particularly establishment Democrats and their vendor friends and political accessories.
Now engaged in a pushing and pulling match with Senate President Steve Sweeney (D-3) over rightful ownership of the mantle "Most Likely to Succeed Republican Gov. Chris Christie," Fulop wants to coalesce northern Democratic Party leadership as the party's best alternative to the South Jersey-based Sweeney.
Others want the same.
At a Speaker Vincent Prieto (D-32) fundraiser last night in Secaucus, Bergen County Democratic Committee Chairman Lou Stellato declared Hudson, Bergen and Passaic united.
Fulop was in the room.
But whether the party establishment beyond the security blanket of home county Hudson will want Fulop after his zigzag around Essex County Executive Joe DiVincenzo and endorsement of Baraka is another question.
As Prieto headlined his event last night, Assemblyman Benjie Wimberly (D-35) simultaneously stood at the head of an enormous, packed banquet hall in Paterson in the middle of a mayor's race on the occasion of the Jordan Sisters annual dinner. "He's a rock star," said Passaic County Freeholder T.J. Best, who's used to seeing the former Paterson Catholic football coach – the city's recreation director – work a room.
Best isn't the only one who's noticed.
Party sources are starting to talk about the popular Wimberly, with his built-in base in the state's third largest city – more as a potential statewide candidate for office.
Some of the disgruntled feeling around Fulop over the Baraka endorsement, in fact, has enlivened a look-see at Wimberly, courted by party members to run for mayor this year before declining. Last year's Democratic nominee for governor, former state Sen. Barbara Buono (D-18) also tried to recruit Wimberly as her LG candidate, and he also declined.
Now the assemblyman who coached Superbowl champion Victor Cruz looks like more than simply a local sought-after product, running mate on a doomed ticket or one-day successor to U.S. Rep. Bill Pascrell (D-9), as he physically readies to make the party organization rounds outside Passaic County.
Party sources say Wimberly has upcoming scheduled speaking events in Monmouth and Somerset counties, far from his Paterson comfort zone.
Part of the interest includes an uptick in power of Passaic County Democratic Chairman John Currie, now the state party chair, who is a close friend and ally of Wimberly's.
The other part involves party establishment dissatisfaction with Fulop in North Jersey and the search for a northern alternative to match Sweeney, or at the very least, an obstacle for Fulop to contend with as he seeks party affection.
What is unclear this early is whether that dissatisfaction is real and deep and extends significantly to the county organizations enumerated by Stellato or merely constitutes the narrow, stinging aftereffect of Fulop cutting against an already Chris Christie-weakened DiVincenzo, who last year endorsed the Republican governor.