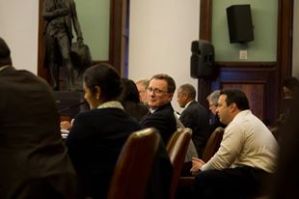 A spokesman for City Council Speaker Melissa Mark-Viverito said the speaker will take unspecified "appropriate action" against the council's longtime finance director, who was reportedly charged yesterday with felony assault.
Preston Niblack was set to be arraigned in Manhattan Criminal Court last night on charges of alleged second-degree felony assault "after cops found his partner bludgeoned by a statue and picture frame in his Upper West Side apartment" Tuesday morning, according to the Daily News.
The couple had reportedly gotten into a heated fight about their living arrangements, which Mr. Niblack's partner, Helvio de Faria, blamed on Mr. Niblack's relationship with another man. According to the New York Post, Mr. Niblack's partner suffered minor injuries to his head and face
A spokesman for Ms. Mark-Viverito told Politicker that Ms. Mark-Viverito was aware of the reports. "The Speaker takes these allegations very seriously and will take appropriate action," he said. The spokesman did not immediately specify what that action would entail.
Mr. Niblack was hired by former Speaker Christine Quinn to manage the council's finances and has been working for the city since 2008. He did not immediately respond to a request for comment.