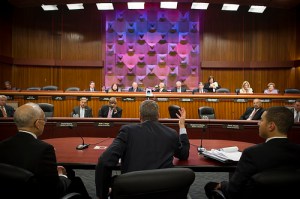 When former Mayor Michael Bloomberg won mayoral control of the city's public schools or watched his dream of a West Side stadium die in Albany, he went into battle with a team of around a half dozen people tasked specifically with lobbying the state legislature.
Mayor Bill de Blasio, who is now locked in a fight for an income tax hike to fund universal prekindergarten, has taken a different tack so far: Only two staffers currently work under Sherif Soliman, the head of Mr. de Blasio's state legislative affairs office. Both are holdovers from the Bloomberg administration.
The de Blasio approach to Albany, which some state lawmakers have groused about publicly, is predicated on leveraging the legislative experience of top administration hires, marking a break from the previous mayor, who generally maintained a staff of around six in Albany.
"Including Sherif, we currently have three people in our Albany office who are engaged in direct lobbying activities with legislature and executive branch, and we will expand that office soon," Marti Adams, a spokeswoman for Mr. de Blasio, said in a statement, noting that the administration's "presence goes much deeper than our Albany office."
"Our staff in Albany and in New York City–including the mayor himself–are deeply engaged with lawmakers in Albany on a regular basis," she said.
Whether Mr. de Blasio expands his Albany staff remains to be seen. As recently as last week, those seeking jobs under Mr. Soloman were told that his office was now full, one Democratic source told Politicker.
Instead, Mr. de Blasio appears to be relying on longtime insiders hired for other jobs in his administration to do his bidding upstate. That list includes Dean Fuleihan, Mr. de Blasio's budget director, who is regarded as a top weapon within Mr. de Blasio's inner circle because he served as Assembly Speaker Sheldon Silver's budget guru. Marco Carrión, head of Mr. de Blasio's Community Affairs Unit, used to serve as the political director of the Central Labor Council, where he was able to forge his own valuable ties to lawmakers in the city and state. And Emma Wolfe, the director of intergovernmental affairs and Mr. de Blasio's top political strategist, is expected to mastermind de Blasio lobbying victories in Albany like she did during his campaigns for public advocate and mayor.
Those close to Mr. de Blasio say he also regularly engages with state lawmakers personally in a way Mr. Bloomberg never did. Mr. de Blasio has already made multiple personal trips to Albany in recent weeks to cajole lawmakers and Gov. Andrew Cuomo, who opposes the tax hike plan and is pushing his own state-wide funding stream. The de Blasio administration also boasts they "touched" more than 100 legislators last week via phone calls or meetings on the pre-K topic.
Mr. Bloomberg, who could be openly disdainful of state lawmakers, cycled through multiple state legislative affairs directors during his 12 years in power. He began with a holdover from the Giuliani years, Skip Piscitelli, and later hired Michelle Goldstein, who held a variety of governmental positions before taking the job. Mr. Bloomberg's most visible Albany director, however, was Micah Lasher, a man about three decades Mr. Fuleihan's junior. Mr. Lasher, under 30 at the time of his appointment, founded the firm SKDKnickerbocker and was known as a fierce, confrontational force in Albany. (Two more directors, Wendy Garba for one session only and Joseph Garba, would follow.)
Mr. Bloomberg, a consummate political outsider, also relied on his personal fortune to make contributions to Senate Republicans to try and move his agenda, irking some Democrats in the Assembly and Senate.
Mr. Soliman, in contrast, is generally known to be more understated and comes to the job after serving as communications director of the New York City Employees Retirement System. During the press conference announcing his appointment, Mr. de Blasio stressed Mr. Soliman's 15 years of experience in pension policy, as well as his understanding of the state legislative process, learned while serving as assistant legislative representative in Mr. Bloomberg's state legislative affairs office.
Still, Albany insiders have remained skeptical about whether Mr. de Blasio's approach, which is being aided by a non-profit spearheaded by consulting firm BerlinRosen and his ex-campaign staffers, will be successful, particularly because of the dearth of staff working out of Albany. Many of his top aides, they note, already have heaping plates.
"These are individuals [Mr. Fuleihan, Mr. Carrión and Ms. Wolfe] who have responsibilities to other citywide agencies," a source familiar with the past operations of the mayor's Albany office said. "They have more on their plate than universal pre-K. There should be a full staff on the ground talking to legislators every day and focused on the state legislative agenda."
"Dean Fuleihan just put together a $77 billion budget–it's far more complex than one issue," the source added. "Is it Dean's job to be the state legislative director and the city's budget director?" 
Mr. de Blasio may also have complicated the situation when he unveiled plans to fight for another uphill proposal: earning the city's right to raise its own minimum wage. Mr. Cuomo and top senate officials quickly dismissed the idea–which some have suggested may be a bargaining tool to help push pre-K.
But observers note there's still lots of time before the budget is negotiated later this year. While Republican State Senator Dean Skelos, who governs the Senate with a coalition of breakaway Democrats, vowed to prevent Mr. de Blasio's tax hike proposal from making it to the floor for a vote, a tax hike to fund pre-K could still be squeezed in during the often-unpredictable end-of -session scramble.
And old Albany hands like Mr. Fuleihan could be crucial if Mr. de Blasio maneuvers to tuck his tax hike plan into a sprawling budget bill like the Education, Labor and Family Assistance bill, known as ELFA, or pursues other arcane avenues, as some observers suggested.
"One strength the mayor has is that his team is stacked with Albany insiders," said one Democratic insider close to Mr. de Blasio's team. "None more important then Dean Fuleihan, who almost certainly has more knowledge of Albany's process and the state budget the anyone else on the planet."