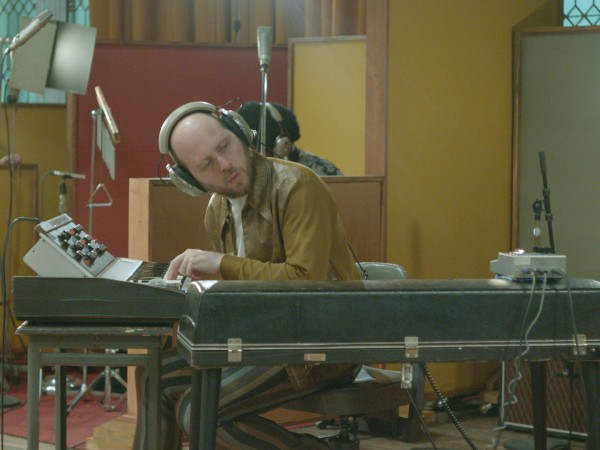 Vancouver-based multimedia artist Stan Douglas, for his latest outing at Zwirner, has shot an absorbing six-hour film that imagines a 1970s jam session among 10 musicians in Columbia's storied 30th Street Studio, which Bob Dylan, Miles Davis and Glenn Gould used at various points.
Mr. Douglas' camera wanders around the studio as the players, all professional musicians he hired and outfitted in '70s attire, build layer upon layer of deep funk, venturing into more psychedelic territory and then stripping it all down for stretches of mellow ambience. Kimberly Thompson, on drums, works the ride symbol and grins over at guitar player Liberty Ellman as the music starts to click into place. Mr. Ellman strums out a rapid-fire passage, and band leader Jason Moran tickles a set of keyboards. All the while, the steady bassist Burniss Earl Travis patiently holds court, seated on a stool in the center of the studio. The camera cuts, and suddenly Antoine Roney is letting it rip on soprano sax, as Kahil Kwame Bell finds a way in with a tambourine, Nitin Mitta tapping his tablas and Abdou Mboup ornamenting the action on congas. Another cut, the jam still flowing, and Jason Lindner is getting freaky on Moog and Wurlitzer, peeling off sci-fi squeals with turns of a knob. Marvin Sewell pops in here and there with dabs of rhythm guitar.
Around the periphery of the studio, a small crowd takes in the performances. There are recording engineers, record company men and a young female journalist taking notes on a pad of paper. They are stand-ins for the viewer in the gallery. The film is a sprawling, thrilling allegory of the collaborative creation of any artwork and easily the most heartening artwork now on view in Chelsea.
(Through Feb. 22, 2014)