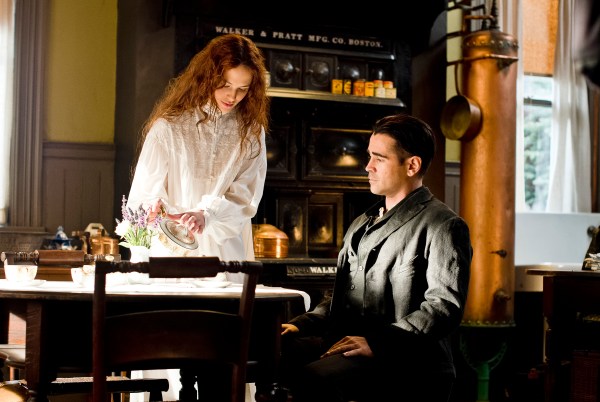 Movies get crazier and more incomprehensible every day, but you don't know demented until you see Winter's Tale. This metaphysical howl is such a plodding, pretentious, time-wasting speed bump in the history of motion pictures that it's hard to believe it wasn't directed by Charlie Kaufman, Wes Anderson or Andy Warhol. Only time will tell, but I doubt if even the fans of unwatchable trash such as Synecdoche, New York and I Married a Monster From Outer Space will sit through it in one piece.
---

Winter's Tale ★
(1/4 stars)

Written by: Akiva Goldsman
Directed by: Akiva Goldsman
Starring: Colin Farrell, Jessica Brown Findlay and Russell Crowe
Running time: 118 min.

---

 
It's a shock when the credits for a movie this bad are so formidable. Based on a preposterous book by Mark Helprin, this whimsical overdose is written in what sounds like a translation of Sanskrit by Oscar-winning screenwriter (for A Beautiful Mind) Akiva Goldsman (making an ill-advised directing debut) and beautifully photographed by ace cinematographer Caleb Deschanel. Set in a mythical kingdom called New York, the mumbo jumbo—about how we're all part of a bigger world beyond the one we live in—plays leapfrog with the centuries, beginning in 1895 when a master thief named Peter Lake (Colin Farrell) breaks into an elegant private town house in the middle of a plague, mysteriously called the Fever, to rob the safe. Inside, he encounters a 21-year-old woman with consumption named Beverly Penn (Jessica Brown Findlay, from T.V.'s Downton Abbey), who is playing Brahms and coughing herself to death like Greta Garbo in Camille. It is love at first sight.
Peter wants to go straight and escape New York with the fever-ravaged Beverly, but hold on. His crime boss, Pearly Soames, a scar-faced creature with the Celtic lilt of a whiskey-soaked leprechaun (Russell Crowe), is an indestructible demon who works for Satan himself. So he tries to kill Beverly with the Fever for reasons that are never clear. But Peter rescues her on a white horse with wings, and they escape across a lake of solid ice to the country mansion of Beverly's skeptical father (William Hurt, looking like something out of Dickens). Beverly sleeps with Peter in a tent on the roof, accusing him of vanity. He says, "I'm an orphan. Orphans have no vanity. You need parents to be vain." Huh? So he impregnates her, teaching her to recite the names of the constellations to get well and some day turn into a heavenly star. (They've got magic powers, see. You'd never believe what Cassiopeia can do.) Peter was really a mechanic before he became a thief, so while he's at it, he wins over Beverly's disapproving father by repairing the furnace. Huh?
The movie's biggest laugh is Satan, played by—are you ready?—Will Smith, who says things like, "A man's destiny is not what it seems." The film jumps from 1895 to 2014, and not the least of the its absurdities is the fact that with half of his head shaved into a mop of black grease in the center like one of the stupid hairdos rock musicians wear today, Peter looks more contemporary in 1895 than he does with long, dirty hair down to his shoulders in 2014. Eventually, he turns up in modern Manhattan, searching for clues to why Beverly died, pursued by Mr. Crowe's demonic character, who has traveled all the way from Hell on a mission to crush humans and destroy souls. Sometimes, his hair is shaved up the side of his skull like it was in 1895, then in the next scene it has grown back in looking preppy as a University of Virginia sophomore. Nobody seems to have been hired to check continuity.
120 years have passed, but Peter finds his beloved Beverly on microfilm with the aid of a journalist (Jennifer Connelly), who writes a food column. Huh? She leads him to Beverly's little sister, Willa, who is now—are you ready?—the great Eva Marie Saint! By my arithmetic, she has to be at least 125 years old, but never mind. Nothing in this movie is rooted in logic. When Lucifer tells the evil Pearly his mistake was allowing the 1895 Beverly to love the 1895 Peter so much that he could never die, the "Sorcerer of the Five Boroughs" declares war. Peter, who mysteriously gets his old ugly 1895 hairdo back, is enjoying a chicken dinner in Greenwich Village while the flying white horse waits outside a Dunkin' Donuts. Is it too late to save Ms. Connelly's daughter from cancer? Does anyone care?
Have you had enough, as the Republicans used to say? There's more to this phantasmagorical fairy tale, but I'll spare you. Oblique, unstructured and demented, Winter's Tale aims to cast a dreamlike spell, but it's more like a nightmare. It is never clear if Colin Farrell turns into a constellation or not, but he does look a lot like a pumped-up Piscis Austrinus.