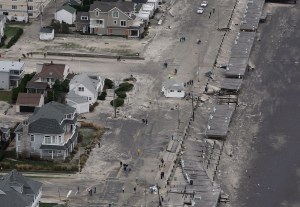 TRENTON – The Christie administration sought today to defend its plans for spending $1.46 billion in second-round Sandy recovery funds while housing and environmental advocates in New Jersey blasted the proposal as lacking transparency as well as protections against politically motivated funding.
The administration has submitted to Housing and Urban Development its plan for how it will spend the federal aid, a proposal that it says will help the hardest-hit communities and most financially struggling towns but which critics say still shortchanges tenants as well as low- and moderate-income households.
The proposal for the second-round funding comes at a time when the administration is dealing with accusations that it funneled Sandy money to towns not as hard hit as others and as a federal audit of how Sandy money was spent is under way.
The head of the Governor's Office of Recovery and Rebuilding, Marc Ferzan, sought to channel questions about politics to the Department of Community Affairs, but housing advocates and reporters have taken issue with DCA responsiveness.
As for the second-round funding application, the state wants to spend $735 million on housing assistance, including $450 million for low- and moderate-income families; $535 million on infrastructure; and $5 million for a new tourism marketing campaign. The old "Stronger Than the Storm'' campaign came under fire because of its focus on Gov. Chris Christie and his family; the ad campaign went to a politically connected firm for $4.7 million as opposed to another firm that was bidding $2 million less.
The state had $1.8 billion in federal funds in first-round funding, but estimates that there is $19 billion in unmet needs from the storm that in 2012 caused over $36 billion in damage.
"Demand has far outpaced available funding,'' Ferzan said today in describing the monumental tasks facing the state. "Most of the programs have wait lists or unfunded pipelines. We will have difficult decisions to make in terms of allocating the $1.4 billion that has been made available to us.''
But long-time critics of the administration's use of Sandy aid said today they still doubt enough money is going to those most in need.
Fair Share Housing Center, which has jousted many times with the administration, said the second-round proposal removes a requirement targeting areas most impacted, thus allowing the risk for repeats of situations such as occurred with a senior center in Belleville, which received $6 million in Sandy money for an $18 million project in a town that did not suffer as much damage as some other municipalities.
And Fair Share said it still does not appear as if a basic requirement that 50 percent of funding go toward low- and moderate-income households will be met.
"The new plan doubles down on Christie's failed Sandy strategy," Fair Share attorney Adam Gordon said. "It provides a road map for more political spending over real relief that meets the needs of people most impacted by Sandy."
And Staci Berger, president of the Housing and Community Development Network of New Jersey, said "The plan does not address who is running the state's main housing recovery programs after the state fired its main contractor, Hammerman and Gainer Inc. It is unclear how people will get the help they need."
And N.J. Sierra Club Director Jeff Tittel said: "This Action Plan is not stronger and better, it is more of the same. It promotes the same failed policies of the past. It does not deal with climate change or mitigation and is not transparent. The plan does not even meet the basic HUD requirements in the Community Block Grant Program in important areas. This will waste money and put people and property at risk."
The state has slated three public hearings next week into the second-round proposal: 4 p.m. Feb. 11 at Stockton University; 5:30 p.m. Feb. 12 at N.J. Institute of Technology and 4 p.m. Feb. 13 at Brookdale Community College.
The Christie Administration opened a 30-day period through March 5 for the public to comment on the plan. The proposed amendment may be obtained in English and Spanish at http://www.nj.gov/dca/divisions/sandyrecovery/action/ on the DCA's website. Written comments on the amendment will be accepted at sandy.publiccomment@dca.state.nj.us until 5:00 p.m. on March 5, 2014.