Last year, when CEO of the eminent structural engineering firm Thornton and Tomassetti Thomas Scarangello and his wife Roxanne Donovan—who heads up the real estate PR firm Great Ink—were looking for a new place of their own, they turned to the Upper East Side's Philip House, for an $8.2 million condo conversion with ample prewar charm. Never far from the scrum of property peddling in their professional lives, the pair entered the action again this week—this time for personal reasons—selling a much more modern combination in Zeckendorf Towers at 1 Irving Place for $3.05 million, according to city records.
From their new place on the 18th floor, buyers Kate Vanek and her husband James will enjoy views of Union Square Park, which might prove useful during Ms. Vanek's business hours, when she works as a senior vice president at Nielsen Holdings—the international company best known for tracking consumer patterns, preferences and behavior. Where better, after all, to observe the scurrying vicissitudes of materialistic desire than from high above Union Square? The apartment itself isn't bad, either. Light granite and cherry wood ornament an open chef's kitchen, while marble brings elegance to bathrooms. There are three bedrooms, a profusion of windows and views of Freedom Tower, not to mention a sundeck, which we're sure Mr. and Ms. Vanek won't mind sharing with their neighbors. (We are less sure about the hot tub; one does not move to Gramercy Park, after all, if what one is really after is Seaside Heights.)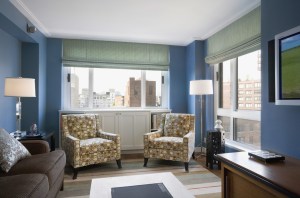 In the view of Urban Compass' Takeshi Yamaguchi, who has done work in the complex, Zeckendorf Towers represent one of "the most important development projects of the 1980s condo boom…the frontier to the revitalization of Union Square…" It is difficult these days to imagine Union Square as anything resembling frontier. And the Vaneks, of course, have nothing to fear. They can look around and know that wherever it may once have been, "the frontier" has long since moved far, far away. And that's what that $3 million price tag was all about, wasn't it?