"I only need three things to survive Fashion Week," an executive editor at a fashion magazine bellyached to Shindigger last week. "A fully charged smart phone, a driver and a shit ton of red wine."
Not an unreasonable catalog of demands, even the driver, what with the siege of falling ice and blinding snow referred to at the runways as Snowchi.
Fashion Week, be it in Paris, Milan or New York, is a test of endurance as much as anything, and complaining is more en vogue than a Michael Kors fox fur. Take, for instance, the debacle at the Brooklyn Navy Yard, where Alexander Wang held his show. 
"It's so icy I almost ate shit," one fashion buyer was overheard kvetching. "Thank God for this whiskey." Little did the buyer know that afterward an hour-long delay to escape the Navy Yard awaited.
"I need a phone that still has its friggin' battery!" singer Kelly Rowland complained to Shindigger. "They run out of battery so quickly now," she said, before adding how much she enjoyed Katharine Polk's chic and easy designs.
The Fashion Week frenzy has become dependent on technology, from apps that that dish out seat assignments to those that communicate scheduling delays. Naturally, nothing worked, especially at Lincoln Center, where the Fashion GPS app continually malfunctioned. 
"I've never Instagramed, and I will never Instagram!" scoffed André Leon Talley, bedecked in custom-made Karl Lagerfeld for Fendi. Nonetheless, the newly appointed creative director for Zappos did have an iPhone on hand.
"Are you watching the Olympics?" Shindigger asked, cautiously changing subjects. 
"Absolutely not!" he snapped. "I'm not into snowboarding, skiing, luge, lunging and all those other fabulous things they do. I must say, I love the Ralph Lauren sweaters, though."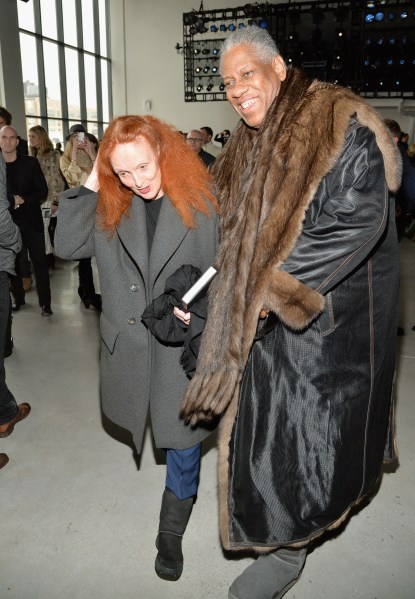 At Hervé Léger's show, Dallas star Jesse Metcalfe explained he was really just a plus-one for his fiancée, Cara Santana. "It's a great group of people, and they always put on a great show," he told Shindigger. 
"Are you tuning into the Olympics this season?" Shindigger wanted to know. 
"No," he said flatly. "I'm not a huge Winter Olympics guy. I snowboard sometimes, so I watch the verve and freestyle, but beyond that, I'm not that interested."
"There's a lot of cacophony back here," Shindigger murmured to Max Azria, who stood behind us, sandwiched between jet-setter Hofit Golan and model Petra Němcová.
"Yeah, a cacophony! You're French? That's a very French thing to say," the Tunisian-Frenchman said with a smile as Shindigger nodded.
"Are you tuning into the Olympics?" we questioned.
"To be honest with you, no, but in a few hours I'll turn to my TV."
Model Coco Rocha, shimmering in her skin-tight Léger a few feet away, was too busy for sports as well.
"I'm from Canada, so I'll be tuning into figure skating and hockey," she reasoned.
We were suddenly cut off and literally pushed into head designer Lubov Azria.
"Sochi, Sochi, Sochi!" she shrilled. "I'm from Russia, and I'm still trying to figure out how Sochi is Russian. It's in Georgia, isn't it?" she said with a playful glance at an assistant. 
Comedy purveyor Caroline Hirsch was one person who had actually watched some Olympics—the opening ceremonies. 
"The Russians did a great job," she cooed from her seat at friend Dennis Basso's show. "I wish I could have been there to experience it. It was outrageous!"
"What event would you compete in?"
"Cross-country skiing. It's a total body workout. Those skiers just drop to the ground when they come off the track. And you don't have the dangers of downhill skiing."
MSNBC co-host Mika Brzezinski had the opposite mentality. 
"My choice would be downhill skiing," she confessed from the front row at Kaufmanfranco. "But the snow in Sochi is horrible, I hear."
Last week, Shindigger also ventured to American Express' lavish Skybox at Lincoln Center to witness the presentation of Naeem Khan's dazzling designs. Afterward, style expert Phillip Bloch talked about his career as patrons threw back sparkling wine and mini gourmet sandwiches.
"I think the convergence of sports and fashion is the next big frontier," he offered. "I'm very into sports. I loved this year's opening ceremonies." Mr. Bloch noted that competition is important but the best parts of sports are the special moments experienced by the athletes. 
"As you can see, I get emotional," he said, genuinely tearing up. Like everyone else at Fashion Week, Mr. Bloch favored the ice skating.
"I love a good illusion outfit," he giggled. "I'm also fascinated by the, the—it's the most stupid sport ever …"
"Curling?"Shindigger suggested.
"That's it! I'm just fascinated by its simplicity."
We turned to leave when Mr. Bloch grabbed us again. "By the way, I thought it was funny that the Russians are so anti-gay, yet they selected rainbow uniforms! Just sayin'."