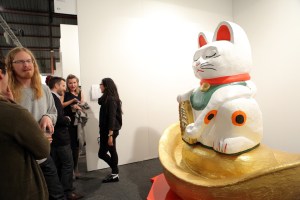 "I kind of find this overwhelming," fashion historian Cameron Silver said at the opening last Thursday evening of the annual contemporary art fair Art Los Angeles Contemporary. "I need a guide—I'm not an expert, I just know what I like. But there's lots of potentially good Instagrams."
Now in its fifth edition in Barker Hangar at the Santa Monica Airport, the fair, which ran through Sunday, opened to sizable crowds, a flurry of parallel events like panel discussions and collection visits, and copious sales. Early reports indicated that a majority of booths had sold out by the time the invite-only, VIP crowd left later on Thursday night.
Compared to behemoths like Art Basel in Miami Beach, ALAC is a modest fair, comprised of 20 Los Angeles galleries, 13 from New York and 34 from other parts of the U.S. and the world. It has become known as a showcase for local talent, whether emerging or, in the case of Sterling Ruby, featured at the booth of New York gallery Foxy Production, established. "The size of the fair and strong showing by local artists are what make ALAC unique," said one L.A.-based art advisor. "It's more village than metropolis."
These days, ALAC is also L.A.'s dominant contemporary art fair. A competitor, Art Platform, started four years ago by the owners of New York's Armory Show, has dropped out. L.A.'s other homegrown fair, downtown's L.A. Art Show, lacks ALAC's edginess and buzz. And as for the specialized French import Paris Photo, which debuted last year on the Paramount Studios lot, it was more flash than substance.
Only time will tell whether ALAC's founder and director, Tim Fleming, has come up with the right formula for L.A.'s specific needs, but there is no doubt that the city has them. The art collecting ethos is still different here than it is in New York. "This is a city where there is no prototype for a collector," said local dealer Mihai Nicodim, whose booth, which featured work by Adrian Ghenie, Jack Lavender and newcomer Mihut Boscu Kafchin, sold out early on during the fair's opening day. "They span all professions and have varied interests. It seems Los Angeles is on the map not only for the typical escapist reasons, but as a real home for critical discourse and the market."
Among the swells on hand for opening night were Orlando Bloom, Jerry Bruckheimer, Jane Fonda, Ann Philbin from the Hammer, interim Museum of Contemporary Art director Maria Seferian, Los Angeles County Museum of Art curator Franklins Sirmans, Irving Blum and former MoCA director Jeffrey Deitch. "I have a home here and I've already spent half the month in Los Angeles," said Mr. Deitch, who has plans for an art space back in New York, in Brooklyn's Red Hook neighborhood. "In the American art world now, you really need to be both in New York and Los Angeles. And it's not one versus the other; a lot of people are doing what I'm doing, dividing their time—gallerists, and artists too. This is the new structure. You've got to be in both places."
Back in his booth, Mr. Nicodim commented on Mr. Deitch's recently-appointed successor at MOCA, Philippe Vergne. "I think Philippe's appointment is a step forward for the institution and the city," he said. "However my opinion is less personal and more bureaucratic; reliable bureaucracy is exactly what will change the museum, not the ebbs and flows of interpersonal politics. I'm most interested in seeing the museum acquire steady stewardship. It seems the recent big fundraising before his appointment paired with the hopeful nature of his tenure will result in much-needed relief for the institution, and the community as a result."
Elsewhere, the fair found an unofficial mascot in Bert, the small, adorable dog belonging to New York dealer Kathy Grayson. The booth of her gallery, The Hole, featured work by Jim Joe. "These works were made for a show in Toronto," Ms. Grayson said. "Last month the rapper Drake bought one. They tell a little story with the order they're in. They're almost like hieroglyphics."
"Things for us here are usually slow and steady," she added of her experience of ALAC overall. "We don't show the buzzword L.A. artists. We show a lot of New York artists. We've sold a few things so far, and that's cool with us."
If there was one complaint about ALAC this year, it had to do with what some saw as a certain homogeneity in the art on view. "It is apparent this is Tim Fleming's taste," one collector said. "That's not a bad thing, but they need a much more variegated program."
"Galleries apply with a specific booth plan, artist list and select works of their own choosing," Mr. Fleming said, adding that the fair works with an advisory committee. "Galleries take risks at ALAC, and we celebrate that ambition."
Daniel Faria from Toronto was a first time participant in ALAC, but a repeat visitor. The pièce de résistance in his booth was from Brooklyn-based painter Kristine Moran. "She's very much a painter's painter," he said. "She occupies a space between figuration, representation and abstraction, so a lot of her works are rooted in the figure of a woman going through a shift in psychological change or consciousness, and that energy gets abstracted out."
Mr. Faria's booth was across from that of L.A. gallery Various Small Fires, which was featuring a splashy work by Sean Shim Boyle, an oversized version of Japan's beloved maneki-neko cat, widely recognized as a good luck charm. In Mr. Boyle's version, the cat sits in a masturbatory pose. "It symbolizes good fortune," said Mr. Faria, glancing across the aisle. "We're hoping that all that good luck will ooze out of him and rub off on us at this year's fair. So far so good."