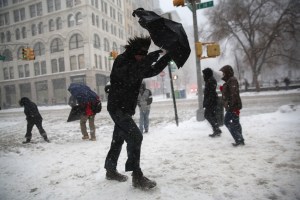 Mayor Bill de Blasio's decision to keep schools open during today's blizzard received a cold response from the city's teachers' union and elected officials.
Michael Mulgrew, the union's president, called the decision a "mistake."
"I understand the desire to keep schools open. The only thing that trumps that is safety. Having students, parents and staff traveling in these conditions was unwarranted. It was a mistake to open schools today," Mr. Mulgrew said in a statement. 
This is the first time Mr. Mulgrew, a close ally of the mayor, has criticized Mr. de Blasio's school closure call, though the mayor has taken flak on the issue before.
Officials piled on this morning as well as the heavy flurries continued to fall.
"The City of New York got it wrong today," declared Staten Island Assemblywoman Nicole Malliotakis. "The decision by Chancellor Fariña to keep all public schools open was misguided. The visibility and weather conditions are very poor and the safety of New York's students should be paramount when making a decision on school closures. Keeping schools open and expecting children to travel through heavy snow, sleet and ice at the same time the City is urging residents to stay off the road is nonsensical."
"In my usual blunt fashion: I spoke to Mayors office. Displeased with decision to keep schools open," Asemblyman Joe Borelli, also who represents Staten Island's South Shore, wrote in a Facebook message to constituents. 
Privately, others grumbled that the decision to keep schools came far earlier than usual, in an email sent by Ms. Fariña at 10:33 p.m. "Parents, as always, should exercise their own judgment with regard to their children. Safety is a top priority for the Department," the DOE said then.
A spokeswoman for Mr. de Blasio declined to comment on the criticism, but noted that city schools have only had 11 snow days since 1978. In the past, Mr. de Blasio has argued that open schools are important for working parents.