Artist and teacher Terry Adkins, whose work in a variety of media earned him widespread and growing acclaim, died on Friday in New York at the age of 60. His New York dealer, Jeanne Greenberg Rohatyn, who runs Salon 94, said the cause was heart failure.
"Terry was an intrepid and accomplished artist, performer, musician, and educator who approached his life and work with enormous spirit, audacity, humor, and indefatigable intellect," Ms. Rohatyn said in a statement she released via e-mail. "He was a beloved professor of Fine Arts at the University of Pennsylvania, whose influence will be felt by younger artists for years to come."
Mr. Adkins grew up in a musical household—his mother was an amateur clarinetist and pianist, and his father played organ and sang in the church choir—and music played a vital role in his practice. "I try to make sculpture and other works of art that have a feeling of being as ethereal and transient as music," he told an interviewer last year. When it came to music, he added, "I'm a torch bearer of the avant-garde from the '60s, so that has a very visceral, kind of physical quality to it." That description could equally well fit his meaty, elegantly muscular sculptures, assemblages that often include wood, metal, textiles and found objects, like musical instruments (drums, horns) or stereo equipment, and that have the look of ritual or devotional pieces.
Picking objects to include in his assemblages, he said that he was interested in a process he termed "potential disclosure," which he described as "an animistic approach to materials where you feel that they have more than just physical mass. There's a spirit in them." Sifting through junkyards early in his career, he would look for "materials that sing out to you, or identify themselves as being, of having the potential to do something else, besides just being in this junk pile," he said.
His sculptures were often inspired by, and dedicated to, historical figures, from musical heroes like blues singer Bessie Smith, guitarist Jimi Hendrix (whose music he credited with saving his life, drawing him away from friends who were negative influences) and composer Ludwig van Beethoven to the writer and activist W. E. B. Du Bois and the abolitionist John Brown. What united them? "Super-human feats of singular vision, overcoming adversity and being able to affect large bodies of people by these actions," he said.
Mr. Adkins was born in 1953, and was adept at drawing at an early age. "I didn't consider it to be anything special because I was good at it," he said, and instead focused more of his energies on music early in his life. He completed his undergraduate studies in 1975 at Fisk University in Nashville, Tenn., and earned an M.S. at Illinois State University in Normal, Ill., in 1977 and an M.F.A. at the University of Kentucky in Lexington in 1979.
He performed music throughout his career, forming the Lone Wolf Recital Corps in 1986, with which he performed widely, frequently as a component of art installations he produced. The Studio Museum in Harlem has a video of his recent performance with the Corps, as part of its "Radical Presence" exhibition (in conjunction with New York University's Grey Art Gallery), available here.
A professor at the University of Pennsylvania, he was quick to say that he tried to keep his art-making and educating separate, but conceded on one occasion that, in his art, "I guess you could say that I am [teaching] in that I'm trying to educate the viewing audience to things that I feel would otherwise be forgotten."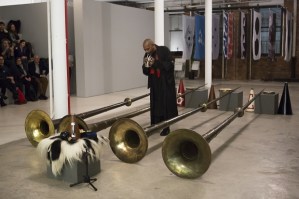 His work is held in numerous public collections, including those of Tate Modern, the Metropolitan Museum of Art, the Museum of Modern Art, the Hirshhorn Museum and Sculpture Garden in Washington, D.C., and the High Museum of Art in Atlanta.
Mr. Adkins had recent solo shows at the Tang Museum at Skidmore College in Saratoga Springs, N.Y., and the Mary & Leigh Block Museum of Art, Northwestern University, in Evanston, Ill., and has been tapped to appear in this year's Whitney Biennial.
He is survived by his wife, Merele Williams-Adkins, and two children, Titus Hamilton Adkins and Turiya Hamlet Adkins.
Addressing his influences in a 2012 interview, Mr. Adkins mentioned the importance attending Catholic Church as a child had on his eventual art career. "This early exposure to…an architectural space that was meant for ceremony as well as contemplation had a profound effect on me," he said.
"I don't know whether faith is the right word," he added later. "I think it has to do with my belief that art can be a force for change."