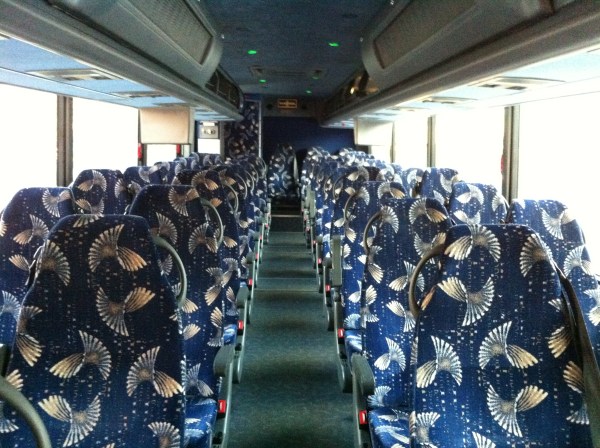 North Brooklyn hipsters feared for their lives last Thursday when an East River Ferry ramp plunged into icy water, cutting off service to India Street for at least three weeks. 
"I was so pissed," said one girl with blunt bangs, worn eyeliner and an apartment right off the broken landing. "I got screwed on Friday, I walked all the way," said a down-jacketed blond from Franklin Street.
Like other disenfranchised riders, both women were sharing their sentiments while on board a temporary solution: the so-called East River Ferry Shuttle Bus. The pier's operator, a company called BillyBey, sent over the free land transfer a week into the dock's ongoing repairs.
On a snowy Tuesday morning, the 57-seater started moving riders from the Williamsburg terminal at the foot of North 6th Street—a stop that remains intact—to several junctures along nearby India Street. The shuttle makes one go-round every 20 minutes during the a.m. and p.m. rush hours. Stretching an otherwise five-minute cruise on the water to eight on land, it drops off riders closer to their doorsteps, almost like a school bus. But what a cushy school bus.
With front-facing individual seats, footrests, Wi-Fi and a few small TV monitors, the temporary transporter provides more comfort and privacy than do the bench seats of the MTA's B32 bus traveling along the same route. (The latter, however, picks up the slack midday when the shuttle is off duty.)
On its inaugural run, 34 passengers hopped on over the course of nine trips, according to Paul Samulski of BillyBey. "Let's put it this way—if we put them all on one bus, we'd still have enough room," he said, before rattling off the different ways in which people getting off the boat at North 6th should have known about the service: on-board announcements, signs, text messaging and social media advisories. "You know, it's also the first day. Word of mouth will pick up over time."
At this, the blunt-banged girl, riding the first late-afternoon trip alone, protested that the message came in late. "I took the subway this morning—I only got the email from the Waterways people this afternoon," she said. "It took me 45 minutes the whole way, instead of my usual 25." She looked out the window as the driver struggled through a five-point-turn on car-lined Huron Street, taking care not to ding a cornflower blue Chevy on the corner. "I was actually thinking about canceling my monthly pass," she relented. "I guess if they didn't have this, I would."
As more passengers climbed on for the later trips, they were just as peaceable, keeping to their seats as if riding solo on an odd bus tour of low-rising North Brooklyn. No busker strummed an acoustic version of MGMT's Kids nor whooped for her own performance, as it was on the Brooklyn-bound Q that afternoon.
If people opened their mouths, it was mostly to talk about their commute or the collapsed ramp.
"And the pilings came loose, that's why that thing drifted?" asked a bearded man in a beanie.
"Yes," said Jerrell Obee, a pier manager at BillyBey and de facto conductor for the evening. "Does anyone want to get off at Noble Street?"
By 6:04 p.m. the bus was at its busiest with seven people, including a woman reading on her Kindle (The strikes had dragged on for days but this time there were no more), two friends absentmindedly discussing old relationships (You walk around the neighborhood and run into someone… Is this stopping at Franklin?) and a mop-topped father with his kinky-haired daughter in a Fair Isle beanie, faces bathed in the alien glow of the shuttle's green track lights. (Daddy? Why is there a light!) Like the street lamps outside, those had just been turned on. From the window of a third floor apartment, a backlit blond peered over his nose at the 45-foot motorcoach doggedly maneuvering out of another tight spot.