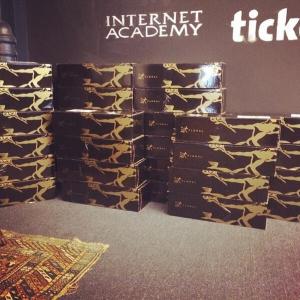 Yesterday's blizzard is a great excuse for failing to get your boyfriend or girlfriend a Valentine's Day gift — but today's partnership between Lover.ly and WunWun means you won't even have to use it.
Wedding search and shopping engine Lover.ly teamed up with delivery app WunWun to deliver gifts to Manhattan and Brooklyn. Yes, they're a trifle generic, but beggars can't be choosers.
WunWun users must simply open the app, select #CupidOnDemand, and pick from the following range of gifts:
Indulge: Chocolates and Champagne from OneHope
Lounge: Something Sexy from Cosabella
Pamper: Nail Polish and Spa Treatment from Essie
Shine: Sydney Evans Necklace from Thomas Laine
Sparkle: Sydney Evans Ring from Thomas Laine
Love Notes: Artisan Valentine's Day cards from Lion in the Sun Paperie.
Or you could just hit the CVS and grab one of those lame heart-shaped boxes full of mystery chocolates and say a rosary that your significant other is in a forgiving mood.
Check out Betabeat's full list of Valentine's Day apps and tech promos.