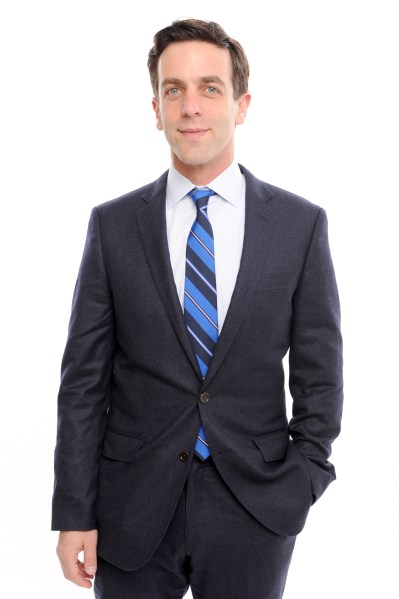 On Thursday night last week, B.J. Novak was at the recently opened Word Bookstore in Jersey City, New Jersey, on the first night of the book tour for his new collection of short stories, One More Thing. The space was filled to capacity, and Mr. Novak was reading from his devastatingly tragic-comic vignettes: One story is about a girl on a first date with a warlord, another concerns a man desperate to know the secrets of dark matter (until he loses interest) and still another is an almost haiku-length musing on how one goes about becoming Kate Moss. Mr. Novak, a veteran performer, read with a stand-up comic's sense of timing, and though the stories presented were by no means the darkest in the collection, there was still a George Saunders-like existentialism to them. Mr. Novak read about the nothingness at the heart of the universe. He read about hope, loss, perfection. He addressed the cynicism of the modern condition without succumbing to it. 
Afterward, during the Q&A, a nervous audience member raised his hand. "So do you have any funny behind-the-scenes stories about working with Mindy Kaling or anyone on The Office?"
Follow-up question (from a different audience member): "What was it like to work with Quentin Tarantino on Inglourious Basterds?"
Mr. Novak, 34, is an oddly positioned star at the moment. As the temp Ryan Howard on The Office, he is most recognizable for his signature raccoon-ringed blue eyes and deadpan self-aggrandizement. "People keep calling me a wunderkind; I don't even know what that means," he humble-bragged one episode, after his character is fast-tracked from temp to executive due to a lack of other qualified candidates. Besides the role in Inglourious Basterds, in which he had the privilege of being the last shot in a Quentin Tarantino film, he has only a smattering of other on-screen credits: He's T.V. famous and for a show that is no longer on the air. 
That's enough to make anyone look askance at the hype surrounding the release of the Knopf publication, which signed a two-book, seven-figure deal with Mr. Novak last April. One More Thing is not the traditional comic's memoir, like Tina Fey's Bossypants or Mindy Kaling's Is Everyone Hanging Out Without Me? (both best-sellers). It's fiction. Wait, worse: It's short stories. Even the most illustrious fiction authors don't usually promote their first books with front-page Reddit AMAs, USA Today covers, or drop-ins with Andy Cohen. 
The message is that B.J. Novak is not a literary celebrity; he's a celebrity who happens to be literary. It's not a small distinction, and one that means that as good as the stories in One More Thing are—and they are very, very good—it is almost impossible to separate the buzz about the collection from the fact that A Hollywood Star Has Written a Book.
"People will certainly recognize me over Pynchon," Mr. Novak, ever the master of the understatement, confided over cocktails before the Word reading. "I'm an outsider in a sense but not in the traditional sense. I'm coming from a shinier place. It's not harder at all to get recognized for your writing; it's easier. That's why people are so rightly skeptical of it."
Mr. Novak set down his cucumber mojito and leaned forward. "I notice, of course, that I'm getting compared to actors that write, rather than comedy writers—Steve Martin, Woody Allen. The actor in me takes it as a compliment, because I've hardly made it to James Franco as an actor to warrant that level of skepticism. It makes me think that people think I'm more famous than I am. I was hardly an A-list movie star when I decided to do this. I was someone people thought of as more of a writer. Now I'm in the literary world, and people are like, 'Oh, hey, Mr. Actor.' Part of me thinks of that with great pride."
Though it might hurt his cred among the literati of Brooklyn—his appearance at the PowerHouse Arena's PEN New Books party, surrounded by fans, caused at least one small-press author to sniff about Pied Piper syndrome—his publishing house couldn't be more thrilled to find talent in a face America is already familiar with. Exhibit A: Paul Bogaards, the head of public relations of Knopf, who stood in front of an intimate room last Tuesday night to celebrate the book's release. To an audience that included Sloane Crosley, Allison Williams, Tao Lin and CollegeHumor founder Ricky van Veen, Mr. Bogaards recounted an email he got from Sonny Mehta, chairman and CEO of Knopf, after reading the manuscript for the first time: "It was short," he recalled. "It said: 'B.J. Novak?'
 "How does one answer a question like that from Sonny? By saying that B.J. is an actor? No, that's not quite right. A stand-up comic? Still, not quite right. A writer?" He wondered. "That's good. But he'll need more context. A writer and a Harvard grad? That's good, and it establishes pedigree. Do I mention his incandescent blue eyes?" A pause. "Too gay."
Eventually, Mr. Bogaards decided to go with brevity. "He's a writer," he wrote back to Mr. Mehta. 
Moments later, he got a reply. "I know he's a writer, Bogie. I read the fucking stories. I was asking where things stood." 
Buried in the anecdote was a revealing admission: Knopf's publicity director had led the charge in the book's acquisition. Despite the splashy (and well-advertised) live readings that Mr. Novak gave in comedy clubs to court potential editors for One More Thing, Knopf first obtained the book when Mr. Bogaards was sent a copy directly by Mr. Novak's agent, Richard Abate. Mr. Bogaards then went on to select a team of editors, including Tim O'Connell and Knopf's V.P. and editorial director, Robin Desser. This is a seemingly backward approach to selecting a publishing house—publicist first, editing team second—but not completely unheard of.
"This was a little unique, but Paul does do that," Mr. O'Connell said in a phone interview. 
Mr. O'Connell is best known for editing Tao Lin's Taipei and acquiring the paperback rights to Jaimy Gordon's National Book Award-winning Lord of Misrule. "I've been drawn to someone taking a strange idea and pushing it as far as they can," he explained. Picking Mr. O'Connell, fairly young and described as avant-garde by his colleagues, out of the stable of superstar editors at Knopf is as revealing about Mr. Novak's high literary ambitions as the choice of pitching to Mr. Bogaards was to the reality of his celebrity status. 
"It came in to Paul, and he wanted a not young reader but someone who is a contemporary of B.J.," said Mr. O'Connell, who, along with Ms. Desser, says he had never watched The Office nor had any idea who Mr. Novak was when they first encountered the collection. "Because Paul was like 'pay attention' so quickly, I didn't read the pitch letter. I just read the manuscript, and I told Paul, 'This is amazing. I haven't read anything like it.'
"And then I Googled him and was like, 'No shit.'"