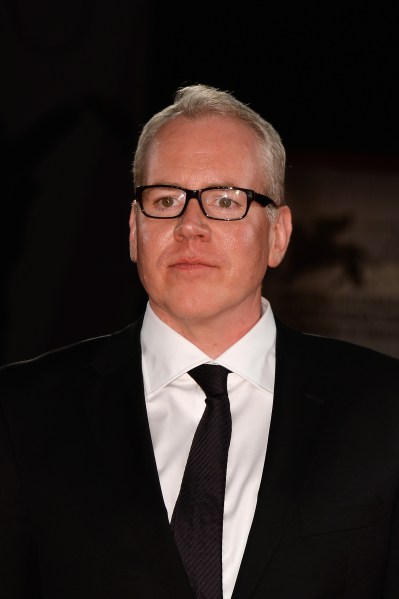 Vice.com's revealing interview with Bret Easton Ellis may have been a little TL;DR for a Tuesday afternoon, but looking at it this morning with fresh eyes? Holy moly, is this ever a goldmine. Yeezus is going to be a movie, maybe? Wait, hold on, let's save it for the list.

8. Yeezus is going to be a movie, maybe?
"It's in Kanye Land, and that's subject to a whole other time frame. He came and asked me to write the film. I didn't want to at first. Then I listened to Yeezus. It was early summer last year and I was driving in my car. He'd given me an advance copy, and I thought, regardless of whether I'm right for this project, I want to work with whoever made this. So fuck it, I said yes. And that's how it happened. That was seven or eight months ago. We'll see what happens."
It makes sense that the two egoists would be attracted to each other, especially after their bro-mantic podcast, but we can't imagine this will go very far from the planning stages. Those two are way too big of prima donnas to ever let their art be compromised by the other.
7. Bret Easton Ellis doesn't like Jezebel.com or feminists, because of what they did to Lena Dunham.
Years ago, I found Jezebel.com very ominous and worrying. I mean, not that I care that much, but now it really has come full circle. I think the Lena Dunham bullying thing—and I don't want to toe the party line and say, "Oh, it was so shitty of Jezebel to do that"—but it was indicative of where a kind of feminism is right now.
6. Feminism in porn is cool though, thanks to James Deen and his girlfriend.
I keep thinking that feminism is getting to a place that's cool, mostly because women that I know just want to be real and they want to be sexual and they want to be pretty. Meeting James Deen, being immersed in his world, meeting a lot of women who worked in porn and seeing how cool they were with it gave me a different view.

You don't think it's fucked them up?
No, they're not fucked up by it. James Deen's girlfriend [VICE columnist Stoya] is a huge performer and, like James, doesn't look like a traditional porn star. She also has a blog where she writes about feminist porn and how she's in control.
5. Buzzfeed's book vertical is indicative of how we're living in Generation Wuss.

Is it BuzzFeed who said they're not going to run any negative reviews any more? Really, guys? What's going to happen to culture then? What's going to happen to conversation? It's going to die.
See also: Snark v. smarm.
4. Ellis' boyfriend is also part of Generation Wuss. Did he mention he has a boyfriend?

A little less so for my boyfriend, who happens to be a millennial of that age, but even he somewhat agrees with the sensitivity of Generation Wuss.
ICYMI!:
Not to reference the 27-year-old [Bret's boyfriend] too often, but he would completely agree with you. American Psycho is about a world that is as alien to him as Saturn.
And again:
Living with someone who's 27, I think the way you described it is perfectly accurate: Online presence is the currency.
Control-F: "Boyfriend"
While my boyfriend and his friends can be really quite biting and mean at times, overall they really do want to put out a more gentle, amiable persona.
3. He likes The Goldfinch, how can he be sexist?

I got it when I said Alice Munro was overrated, too, without people acknowledging that I've criticized a lot of male authors I don't like, and I've celebrated a lot about female writers I love. My friend Donna Tartt, for instance—her new novel, The Goldfinch, is really good, and I'm in awe of someone who can do that.
(Ms. Hart dedicated her first book to her college school buddy, Bret Easton Ellis.)
2. He's distancing himself from The Canyons. It wasn't his fault it was terrible!

I don't know about that. Part of the problem I had with The Canyons was that I would have directed it faster. I don't have the Asian mindset that Paul Schrader does, which is steeped in [Yasujiro] Ozu and the great Japanese directors from the 50s and 60s. That's his way of pacing a movie.
1. He's making a series that will be somewhat related to the Manson murders.

…I wouldn't say it's about the Manson murders. It's about the two years surrounding the Manson murders in LA. The show starts about a year before the Manson murders. I'm just beginning to plan it. It's in the beginning stages.
If this is somehow related to the Yeezus project, that'd be phenomenal.