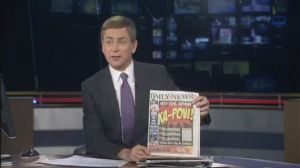 Comcast announced its plan to acquire Time Warner Cable this morning, which is a big deal because it would make Comcast, currently the country's largest cable company, even larger and a lot of money is involved. 
But like most New Yorkers, we mostly care about how things affect us. So it's a relief to know that NY1 won't change. At least, for now.
"There won't be any near-term changes for our news stations or operations. Through the course of the merger this year, we will communicate to our customers any changes," a NY1 spokesperson told us in an email.
And Senator Chuck Schumer asked Comcast the same question when he spoke to the company this morning:
"They confirmed they are going to keep NY1; and they confirmed they will honor Time Warner Cable's commitment to growing jobs in Buffalo," Mr. Schumer said in a statement. "It seems that local jobs, as well as Pat's 'In the Papers' segment, are not in danger."
The Senator knows what's up in terms of constituent concerns.
Susan Crawford at Bloomberg argues that the deal, if it goes through, will be bad for America. But as long as NY1 stays the same (and we don't have to call it Comcast Time Warner Cable News NY1 or anything), we can avoid thinking about the macro implications.