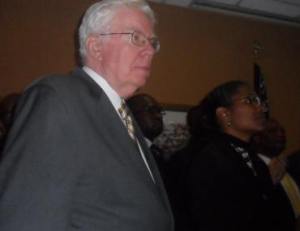 Jersey City Mayor Steve Fulop's endorsement today of Newark Mayoral candidate Ras Baraka calls for some historical context in light of Fulop's political aspirations.
Fulop wants to be governor, and his decision to throw in with Baraka rather than former state Assistant Attorney General Shavar Jeffries already has critics complaining off the record that Fulop fears a rival in the form of Jeffries.
The perception is that Baraka seeks only the office of mayor, while Jeffries, a polished public figure with an eye-catching resume, could propel himself into a statewide stratosphere.
Fulop's rival from South Jersey, Senate President Steve Sweeney (D-3), also has his eye on Drumthwacket.
Although Sweeney is as yet not on the record in support of a candidate for Newark mayor, his strongest Essex allies back Jeffries. Sweeney's and Fulop's statewide jockeying to succeed Republican Gov. Chris Christie puts additional political pressure on Essex, home to the state's largest concentration of Democrats.
PolitickerNJ turned to New Jersey political historian Assemblyman Tom Giblin (D-34), Montclair, a former Democratic State Party chairman, who isolated two key moments in the history of Newark power politics and their impact in statewide elections.
In the case of one of them, Giblin personally occupied the frontlines.
The assemblyman pointed to 1943, when then-Newark Mayor Vincent Murphy ran for governor, but did so without the support of powerful Hudson County boss Frank Hague. "Hague felt that he wouldn't be able to control Murphy," Giblin said.
Failing in his bid for governor without Hague's support, Murphy would go on to become president of the state AFL-CIO.
Then there was 1997, when Sharpe James served as mayor of Newark.
"Sharpe was a key factor in the race between McGreevey and Andrews," said the assemblyman, who was state party chair at the time, referring to the North-South Jersey Democratic Primary between then-Woodbridge Mayor James McGreevey and U.S. Rep. Rob Andrews (D-1).
Both candidates battled hard for Essex support, but James' endorsement of McGreevey and his work to coalesce other Essex elected officials behind the Middlesex mayor swung the power county into McGreevey's corner and deprived the South Jersey Andrews of key northern support.
"People pay attention to the mayor of Newark because the mayor has an enormous base and sphere of influence," said Giblin.