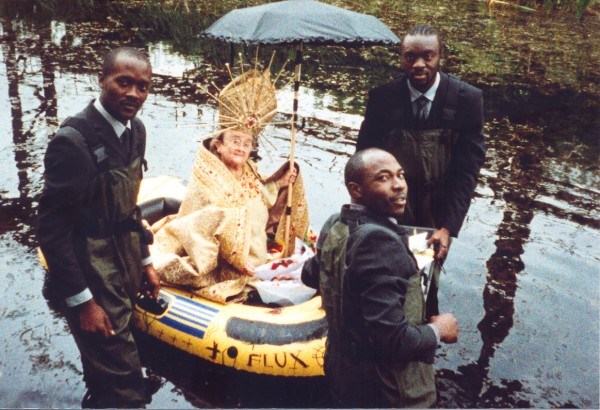 "Tötet Helmut Kohl" ("Kill Helmut Kohl") read the banner that got German artist Christoph Schlingensief arrested. It was 1997, and the sign aimed at the conservative chancellor was part of his project for Documenta, the prestigious quinquennial art festival in Kassel, Germany. He could have gotten off the hook by telling the authorities it was "just art," but he and the young curator backing him had other plans.
"I wouldn't tell the policemen, 'Hey, it's art, it's Documenta, it's up on a stage,'" said Klaus Biesenbach, who had invited Schlingensief to the show. Instead, he and a throng of protesters marched down to the station and demanded that Schlingensief be freed. Schlingensief only relented and agreed to pay a fine when, back in the small town where he grew up, his mother heard the news of his arrest from the local butcher and wouldn't stop sobbing. "Christoph didn't care about the police, he didn't care about the world press, he didn't care about anything," said Mr. Biesenbach, now the director of MoMA PS1 where Schlingensief's first U.S. museum exhibition will open on March 9. "[But] he really cared about his mother being sad."
Schlingensief (pronounced Shlin-gun-zeef) made a career out of calling out the most delicate aspects of Germany's contemporary culture and revisiting the most damning moments of its past. By the time he died of lung cancer in 2010 at age 49, he was "pop star famous" in Germany, as Mr. Biesenbach put it, but he remains virtually unknown this side of the Atlantic, outside of art circles. The PS1 exhibition, which lands in New York after a run at the Kunst-Werke Institute for Contemporary Art in Berlin, and includes his early films—madcap phantasmagoria styled after slasher B-movies—as well as documentation of his many theater projects and performances, and a monumental installation, aims to change that.
"He was our holy fool," Patti Smith told The Observer in a phone interview. A close friend of Schlingensief, she will perform at the exhibition's opening. "He was foolhardy, he had no fear, he would pretty much do anything, but he also had such an angelic mission."
"Christoph was so obsessive, so focused, so nuts that even if you didn't like his work, you had to stand back in amazement and keep your mouth shut," John Waters wrote in an email. "That's what I call art power."
Schlingensief grew up in Oberhausen, in the Ruhr valley, an economically depressed region of western Germany once rich with coal mines and steel mills. Schlingensief, whose father ran a pharmacy on the town square, started making films when he was 8 years old. After being twice rejected from the Munich School of Film and Television, he briefly studied philosophy at university, then dropped out and began producing low-budget films, heavily influenced by the enfant terrible of New German Cinema, Rainer Werner Fassbinder.
He gained widespread notoriety with his German Trilogy, made between 1989 and 1992. The second part, The German Chainsaw Massacre, portrays the aftermath of the fall of the Berlin Wall as a frenzied bloodbath starring a family of West German butchers that turn East Germans into sausage.
That Schlingensief's PS1 exhibition opens there just after a retrospective of the late Los Angeles artist Mike Kelley makes sense. Like Kelley and another inflammatory Angeleno, Paul McCarthy, Schlingensief often depicted what he found disturbing, hypocritical and abhorrent about contemporary society. He fashioned a surrogate family of actors and collaborators, including marginalized people like the mentally disabled and avant-garde performers such as Tilda Swinton and Udo Kier. He freely used trashy sex and campy gore in his film and theater productions.
"If you watch the early films and projects by Paul McCarthy and if you then watch The German Chainsaw Massacre," said Susanne Gaensheimer, the director of the Museum für Moderne Kunst in Frankfurt, "then you really wonder why isn't Christoph Schlingensief also part of the fundamental visual canon of contemporary art?"
"As a director, he was really very energetic," said Voxi Bäerenklau, a close friend and cinematographer, who worked with him on that film among many others. "He was really a crazy guy working. He could be a really nice guy in a private situation, but at work, he was a devil. He was really obsessed with his ideas, and he was really screaming a lot. All the time, he was screaming."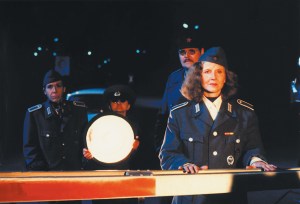 Schlingensief's films garnered him a few critical allies and a cult following, but it was not uncommon for a large part of the audience at any given screening to leave the theater midway through. They weren't offended merely by the films' graphic imagery but were also uncomfortable with his relentless interrogation of Germany's post-reunification culture and its fascist past. His 1997 arrest was the tip of the iceberg; he made a regular practice of attacking politicians.
"He was not very successful in the movies in Germany, because everybody hated him," said Mr. Bäerenklau. "I had to deny that I worked with Christoph here in Germany, because I couldn't get a job at that time mentioning that I am working for Christoph. This gave me a hard time, and it lasted very long, until 2008, which is not a long time ago."
WDR, a German public broadcasting station that features news, comedy, sports and children's shows in its programming, produced Terror 2000, the final installment of the German Trilogy, but ultimately opted not to air it. The film did show in certain cinemas, but some Berliners used butyric acid to destroy the copies held at one theater, calling it "mindless, racist and sexist propaganda."
"I think Christoph switched to theater involuntarily, because after Terror 2000, he couldn't shoot any movies anymore," said Matthias Lilienthal, a former chief dramaturge of the Volksbühne theater in Berlin, who met Schlingensief there when he was forced out of filmmaking. At the Volksbühne, Schlingensief effectively began translating his film works into performances, incorporating projections and improvisation. He began consistently appearing in his own productions after once unexpectedly (and drunkenly) deciding to deliver an unplanned monologue in the middle of one of his plays.