Theater led him to public art performances. In 2000, after a right-wing anti-immigration party joined Austria's governing coalition, he installed a shipping container outside the Vienna opera house and asked 10 people identified as asylum seekers to live inside it for a week. In the manner of the reality TV show Big Brother, Austrians were invited to vote two immigrants out of the country each day.
His work became increasingly hard to categorize. "In Germany, I think it was really difficult for him, because he wasn't an artist just working in one category, and this overlapping was really hard to handle for the critics," said Aino Labarenz, his wife and longtime collaborator. Up to the day he died, critics were still saying he "wasn't a real artist or wasn't a real theater man, or he wasn't a real filmmaker."
The criticism hurt him deeply, but he had charismatic ways of coping. When he got a bad review, recalled Mr. Lilienthal, Schlingensief would often call the critic and spend over an hour explaining his disappointment and the intentions of his work. "He was a kind of—how do you say in English? Verführer?—a seducer," Mr. Lilienthal said. "If I would do the same, the critics would hate me even more afterwards."
Schlingensief's work ultimately found its place in the art world. In 2003, the curator Hans Ulrich Obrist invited him to install a piece at the Venice Biennale. That same year, he began working with the Zurich-based gallery Hauser & Wirth.
He kept one foot in the performing arts and in 2004 restaged Parsifal at the Bayreuth Festival. In his version, Wagner's dove was replaced with high-speed video footage of a rapidly rotting bunny rabbit corpse churning with maggots. "I've seen a lot of stupid, repulsive, irritating, befuddling and boring things on opera stages over the years, but Schlingensief's dead-rabbit climax was something new," wrote Alex Ross in The New Yorker.
"I had questions about it myself; I didn't take to it immediately," said Patti Smith of Parsifal, which she covered for a German newspaper. But as the opera unfolded over five hours, it "was so alive, chaotically alive" that she found herself "really engaged." Ultimately, though, it was Schlingensief himself who won her over.
"He came on the stage—I had never seen him before—and he was so engaging and also full of life," she said. "You know, he just filled this opera hall with so much energy. And as he was being booed, he just smiled away. He had a tux on, and he looked so handsome, and he just laughed and smiled and took on everything that people threw at him. And because he was so engaging and so charming, people started turning from booing him to cheering him, so it was really something to see."
After the opera, a storm descended on Bayreuth, and Ms. Smith met Schlingensief in a hotel where he and his ragtag crew were taking cover. Before the night was through, he'd invited her to accompany them to Namibia for a project. She went.
"When you befriended him," said Ms. Smith, "you were really entering a world, which was both demanding and generous."
Schlingensief's untimely death was deeply mourned by his fans and collaborators. "Really right to the end, right to the end of his life, it really did seem like we were losing a beautiful and mischievous saint," said Ms. Smith. "It's still difficult to believe he's gone." As is often the case with artists who generated mixed reviews during their lifetimes, Schlingensief's work received its highest accolades after his death.
In 2010, a few months before he died, Susanne Gaensheimer, the Museum für Moderne Kunst, Frankfurt, director, invited him to represent Germany at the Venice Biennale. The German pavilion is an inherently controversial structure—it was rebuilt in 1938—and at least one architect, and an artist, has advocated destroying it. In making her choice of artist, Ms. Gaensheimer felt it was "important that the artist I would work with ha[ve] a critical relationship toward German themes or aspects of German history and German culture."
At the time of his death, Schlingensief was planning to transform the pavilion into a grand "wellness center," featuring a fully functional sauna, a swimming pool, a hamam and spa services such as massage and cryotherapy. Visitors would be able to research their genealogy via saliva samples and get preventative tomographic scans. But executing that plan wouldn't necessarily be true to his vision; there was enough time left for him to change his mind, as he often did.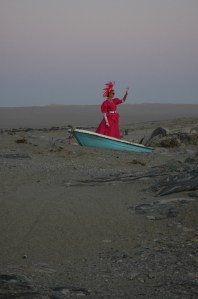 Ms. Gaensheimer rallied museum heavyweights like Tate Modern Director Chris Dercon and Schlingensief's closest collaborators, including Ms. Labarenz, Mr. Bäerenklau, Mr. Lilienthal and the writer and dramaturge Carl Hegemann, to essentially co-curate the pavilion. Instead of trying to guess at Schlingensief's intentions, the team went with a retrospective approach. They dedicated one room to Schlingensief's films, which played continuously on several screens, and another to his opera village in Burkina Faso. The village, which boasts a school educating 150 students, a canteen and an infirmary, continues today under the direction of Ms. Labarenz.
"Aino said that, before he died, there were only two projects left that were important to him," said Ms. Gaensheimer. "One was the opera village in Burkina Faso, and the other was the pavilion, so I considered that as some kind of order to really do it and to make him present in the art world, because he's mainly present in the theater, film and opera worlds."
The main room of the pavilion was a recreation of Schlingensief's hometown church, which stands on the same town square as his father's pharmacy. He served as an altar boy there, and it later became the site of his memorial service. Originally conceived as the set for a Fluxus oratorio delivered at the 2008 Ruhrtriennale, A Church of Fear vs. The Alien Within integrated 12 16mm projections, chest X-rays illuminated by light boxes, a hospital bed and recordings of Schlingensief candidly confronting his mortality. He had written the soliloquy immediately after one of his lungs was removed.
The pavilion didn't escape criticism from Germany. Die Zeit, a national weekly newspaper, called it "lukewarm" and wrote that Schlingensief "did not deserve the Golden Lion," the Biennale's highest honor, which a jury that included John Waters awarded to the pavilion.
"Christoph would have been so happy about this, because he was really kind of a child. He was so proud, when he was getting prizes, because in Germany, they didn't like Christoph very much at all," said Mr. Bäerenklau. "Nobody. He had really a hard time with all his shows and all his movies, but at the very end, he was successful. But it was too late, unfortunately."
Hauser & Wirth, which has since opened branches in London and New York, represents the Schlingensief estate but has never mounted a Schlingensief show. "There was and there is not much of a market for Christoph Schlingensief's work," said Florian Berktold, a director at the Zürich branch, explaining that the artist "was not thinking in terms of collectible artworks" until the end of his life. Two Schlingensief pieces have sold at auction since his death: an acrylic on cotton painting that fetched just under $7,000 and a model for his 2003 Biennale presentation, Church of Fear, that sold for $19,383.
The focal point of the upcoming MoMA PS1 exhibition is one of Schlingensief's three "animatographs": a colossal 60-foot cube that contains a rotating stage, projections from all sides, an East German army shelter and a watchtower. The version of the piece coming to Queens belongs to Hamburg-based manufacturer Harald Falckenberg; another is in the private collection of Swiss former it-girl Francesca von Hapsburg. "It takes collectors who are brave," said Mr. Berktold.
Schlingensief's work may soon become more accessible to collectors, at least in format. The 18-screen installation that was born out of his trip to Namibia, The African Twin Towers (2007), also going on view at MoMA PS1, will eventually be editioned and sold. The estate is still in flux, as Ms. Labarenz and others parse through the wealth of material Schlingensief left behind, but Mr. Berktold said he expects a market to gradually grow.
In the meantime, exhibitions like the Venice Biennale and, now, PS1, may finally be earning Schlingensief what he strived for during his lifetime. "He wanted to be loved," said Mr. Biesenbach. "He couldn't believe it that people wouldn't give him unconditional love, because with everything he did, he wanted to make things better. [His projects] were always good and never evil, and they were always trying to be utopian, making the world a better place."