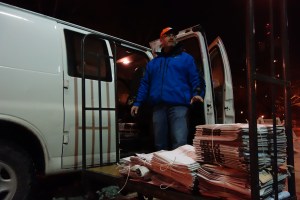 It was cold and dark on a recent Thursday at 5:47 a.m. when Brian Carey was making his most important delivery of the day. He had to get each of the major New York papers to CBS President Les Moonves and a Washington Post and Boston Globe to CBS Corporate Communications. Newspapers bound in his lap, Mr. Carey was remembering the CBS account of years past. "This stop used to be two hand trucks of stuff," Mr. Carey said. "Now it's one freakin' bundle." They used to order 100 Washington Posts every morning; that day, Mr. Carey had six.
Mr. Carey, a stocky 46-year-old, and his bespectacled uncle, Art Hotaling III, 63, are the current generation and staff of Hotaling's News Agency. In 1905, Mr. Hotaling's grandfather and namesake Arthur Hotaling opened a store specializing in out-of-town newspapers. Friends with Times Publisher Adolph Ochs, the elder Hotaling soon moved his newsstand right in front of the old New York Times Building at 1 Times Square. It was a smash hit. The newsstand and its companion storefront thrived without selling a single local paper or domestic magazine. New York's homesick immigrants and curious locals depended on Hotaling's for the rest of the 20th century.
Most of these customers fit into one of a few demographics. One was Irish immigrants. "Oh, my God, you couldn't even understand some of them," said Mr. Carey. "But they lived—lived—for Tuesday mornings. … You'd be putting [papers] on the shelf, and they'd be over your shoulder, grabbing them! The Cork Examiner, The Longford Leader …" There were also the soccer fans—South American, British and Jamaican—who couldn't get info about foreign soccer without foreign papers. "We had to hide behind the counter, because the guys were so insane with their British soccer," said Mr. Carey.
Now, Mr. Carey has a second job: When he's not delivering papers, he helps his friend run a gym. Mr. Carey's thick arms testify to years of weight-lifting. Tough though he looks, talking about the old days at Hotaling's puts him in a nostalgic mood. "The frickin' names of these papers," he intones, "The Elmira Gazette, The Charleston Gazette from West Virginia …" These are names Mr. Carey hasn't said out loud in many years. "You never really thought about it, because that's how it was, until it started to disappear."
A brief success camouflaged disaster. During the first Silicon Valley tech boom of the early '90s, the San Jose Mercury News routinely sold out on the strength of its job listings. Then the Mercury went online in 1996, and its New York sales promptly dried up. This pattern repeated itself, over and over again. In 1999, Hotaling's shuttered its store at 142 West 42nd, its home since 1962.
Once the Internet hit print publishing like a meteor, Hotaling's looked like one more dinosaur. The business survived only by transforming. Hotaling's has downsized from more than 30 employees to two. It eventually moved to a former elevator repair plant on 12th Avenue. Currently more than half of its business is in New York papers and domestic magazines.
Nevertheless, if a New Yorker wants print copies of America's most famous papers—The Chicago Tribune, The Los Angeles Times, The San Francisco Chronicle—or its smaller ones—including The Bergen Record, printed in the New Jersey county right across the Hudson—Hotaling's is one of the only places to find them. A steady stream of bike messengers and unpaid interns make the trip to Hotaling's to pick up newspapers in a pinch.
Messrs. Carey and Hotaling know, however, that it can't go on for more than a few more years. In this elegiac moment, my trip with Mr. Carey marked something of a final good-bye to Hotaling's retail operation. After they shut down the store, nothing came to take its place, and the old Hotaling's location at 142 West 42nd stayed empty. Last year, construction began at 142: They're rebuilding the old Knickerbocker Hotel, once an Algonquin-like haunt for Broadway writers and actors. Now, it will be a luxury spot for wealthy tourists.
As Mr. Carey and I drove by the construction site, he realized that it was open. We eased our way inside. The space was hollowed out and completely surrounded by white brick, the soon-to-be home of a massive hotel room. Mr. Carey looked dazed. He hadn't stood here since the store closed 14 years earlier. "This is where I grew up," he said. "This was Hotaling's News."