Hey, Internet, calm yourself.
The National Weather Service insists that the blizzard thought to be headed to the New York area this weekend will be a light dusting at best.
And the National Weather Service is pissed at social media for spreading the word about several feet of snow.
"As was mentioned yesterday, this is the infamous storm hyped by social media & Internet a week ago as bringing 30+ inches of snow," states a briefing released by the NWS. "It's still nonsense."
And we didn't even add the bold font. Yikes.
The avalanche of worry started when this graphic, posted here on Delmarva Firefighter's Forums, went viral.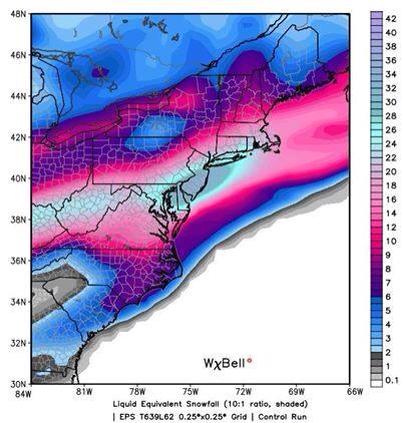 As of now, the picture from that page alone has been shared 41,762 times. It is also, according to the National Weather Service and in the most scientific of terms, pure bologna. 
"It was the antithesis of public service when the 30 inch snowstorm graphic was posted & hyped last week," the National Weather Service briefing said. "It continues to be the antithesis of public service."
The briefing goes on to use other harsh phrases that kind of make us feel like we are being scolded by our grandparents like "the inordinate public interest for such a relatively minor storm event due to the hype…"
What New York and New Jersey can expect is a not nearly as bad "2 to 4 inches."
"A series of relatively weak storm systems will affect the region over the weekend," the briefing said. "This will give us a couple opportunities at some light snow events over the weekend which should only have minor impacts."
Wait, so everything on the internet isn't true? Excuse us as we re-evaluate most of our lives.