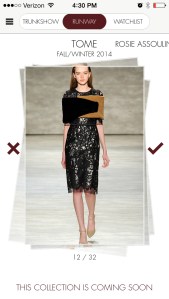 Successful fashion/tech mashups are tough. Maybe it's because fashionistas and code monkeys don't mix, or because the luxe feeling of a silk Hermès scarf can't be simulated via Android. Still, once in a while, the two industries blend seamlessly. This post is part of a series on tech and fashion collabs that got it right this Fashion Week.
Anyone who's been thinking about starting a twelve‐step program to break their Tinder addiction will be glad to hear of Moda Operandi's new app, launched just in time for Fashion Week.
Yes, the website that made online shopping runway friendly since its 2010 inception is now iPhone ready. And, geniuses they are, MO heads Lauren Santo Domingo, Hayley Bloomingdale and Indre Rockefeller are employing the app to gamify the Moda Operandi experience.
The app presents look after look, organized neatly by designer, and users can swipe right if they like the look, or left if it's just not their style. It's got the addictive, shallow fun of Tinder with none of the emotional involvement — well, depending on how attached you get to a black calfskin Carolina Herrera cape at first sight.
Scroll through 3.1 Phillip Lim's collection and swipe right for the fabric‐blocked leather and fur, left for the oddly‐Lisa‐Frank‐esque track jackets — or the other way around if you and graphic prints are having a moment. And when your favorite looks are ready for pre‐order, the app will let you know.
You can also use the app just to bone up on the season's looks, which are perfectly arranged by designer. Let this be your final warning, though: It's incredibly addictive.